How 2011 winner Angela Barnes gave up the day job
In 2011, Brighton's Angela Barnes won the BBC New Comedy Award by a public vote. Here, she shares what she's been up to since taking the title.
 So, the BBC New Comedy Award Final is coming around again, and I have been asked to write a little bit about what I've been doing since winning it in 2011.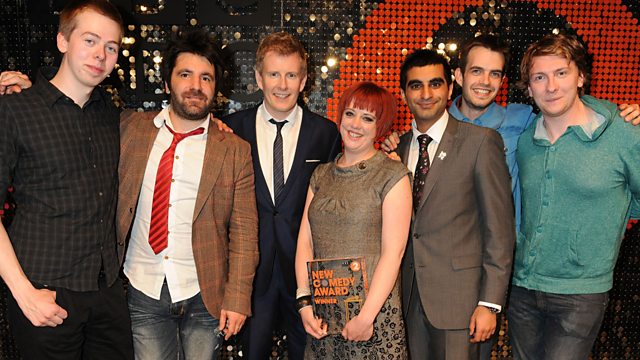 Angela with host Patrick Kielty and the BBC New Comedy Award class of 2011.
Well, let me see now. Over the past two years, I have spent a disproportionate amount of time sitting on trains, staring at blank screens and pieces of paper and waiting for the tap on the shoulder from the comedy police saying "There's been a terrible mistake Angela, turns out you're not a comedian after all, our bad". But, my insecurities aside, it's been a pretty bloomin' amazing couple of years.
Thanks to BBC Radio New Comedy Award, I am a comedian. It's what I do. It's my sole income. It's my job. And, I still can't quite bring myself to believe that that is true. I think I'll always feel a fraud saying it.
Before I entered the competition, I was a hopeful performer of open spots who had been doing the open mics for about 18 months. I had a proper day job, and stand-up was a bit of fun. I'd loved being a consumer of comedy for as long as I can remember. Before doing stand-up, I used to run comedy nights, just so I could get my fix. But it took me until I was 33 to have the confidence, or, more accurately, the "who cares what anyone else thinks" attitude to have a go myself.
I very nearly didn't enter the Award; it was a last minute decision to do it, two days before the closing date. I had nothing to lose - so why not? That was the best last minute decision I've ever made. Definitely trumps the one I made in 1987 to wear a metallic cerise top to a school disco.
An excerpt from Angela Barnes' set at the heats of the New Comedy Award 2011.
I was a runner-up in my heat in Brighton, and went through to the semi-finals as a wildcard. Then, against all my expectations, I won the final.  Blimey.
Highlights from the live final of the BBC New Comedy Award 2011.
A lot has happened since then. I had to work hard to get a decent club set together, to meet the expectations that people suddenly had of me.  I signed with an agent, and began to get booked for paid spots on the circuit.
Since then, things have bumbled along pretty well. When I look back over the past two years, I can't quite believe some of the things that I have got to do.  These are some of the highlights:
Being interviewed by

Terry Wogan and Steve Wright on Radio 2. (

Not simultaneously.)

Writing on The News Quiz on Radio 4. I

'

ve been a huge fan for as long as I can remember. The late and wonderful Linda Smith is my biggest inspiration. So to be involved in the show in any way was amazing.

Appearing on Russell Howard's Good News on BBC Three was a great stepping stone too. Russell gives new stand ups a brilliant chance to do a set on his show, and it

'

s a long set for TV (14 mins), so really showcases what you can do. It meant that more clubs on the circuit were willing to take a chance on this girl that appeared from nowhere.

In 2012, Matt Richardson (Xtra Factor host) and I took a two-hander show to Edinburgh and we had a blast. I

'

m dead proud of what Matt has achieved since then. He

'

ll always be my comedy baby brother.
Now I have signed with Off The Kerb, the agency that looks after so many brilliant acts, Michael McIntyre, Jo Brand, Alan Carr, Kevin Bridges, Seann Walsh, Josh Widdicombe, Jack Dee, Sean Lock, Jon Richardson etc. I can't quite believe I'm in that illustrious stable.
More recently, I have been a regular team member on the current series of Channel 4's Stand Up For The Week. Writing and performing a brand new set on TV every week for eight weeks has been the most challenging thing that I've done, but definitely one of the most rewarding.  It's been a comedy boot camp and I think I'm surviving.
In 2014, I will be taking my first solo show to the Edinburgh Festival. If you had told me five years ago that I would be doing that. I would have thought you were on crack.
So yes, it's been quite a journey from the open spot with ten minutes of material that won the BBC New Comedy Award in 2011, to where I am now. I am just enjoying the ride.
It sounds corny to say it, but winning the award really did completely change my life. Some people in the competition will already be well on their way to a career in comedy. But for me, and for many of the finalists, it's the thing that can give you a massive boost, and validation that you can be a comedian if you want to be. And I did want to be.
Angela Barnes launches the 2012 Award
Winning the BBC Radio New Comedy Award doesn't mean you've made it. It means you've made it to the starting line. And it means the hard work begins.
I want to say "Good Luck!" to all the finalists this year. Enjoy the gigs, and just do what you do best. I'm looking forward to meeting the BBC Radio New Comedy Award winner for 2013!
Now you've met Angela, why not meet the 2013 finalists?