The statistics show that more than 12 million of us feed our garden birds over the winter months and there is no doubt that providing food for our feathered friends brings a great deal of happiness into the lives of millions of people.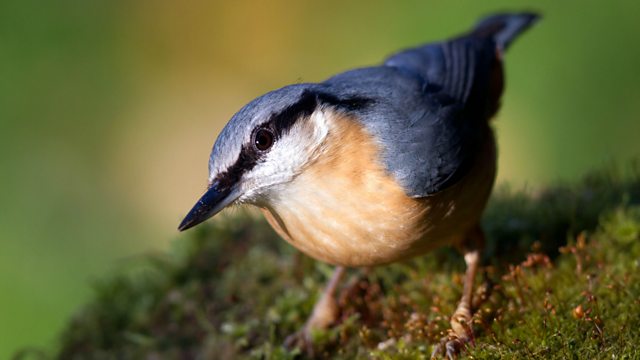 A close-up of a nuthatch by Alex Potts
My own love for birds and wildlife started in the family garden at Lake Vyrnwy and I recall being repeatedly scolded by my mum for sitting on the storage heater watching the bird table through the living room window instead of getting ready for school.I was fascinated by the sheer variety of birds and the hierarchy that was unfolding before my very eyes. 
The coal tits gave way to blue and great tits. They, in turn, gave way to greenfinches and the occasional brambling, but the master of the peanuts was the aggressive nuthatch, with its stubby, dagger-like bill. Dunnocks preferred to remain anonymous, skulking around the hedgerow bottoms, whereas robins and blackbirds hopped along the ground picking at the scattered remains of the peanutfest that unfolded amongst the branches overhead. 
I remember the unbridled joy of a five-year-old when a great spotted woodpecker and flocks of canary-like siskin ventured into our garden for the very first time and the occasional dashing sparrowhawk got the heart beating like a child in a toy shop.
For many of us, this is how our adventure with nature began and, thanks to the RSPB's Big Garden Birdwatch, that adventure will continue later this month. For one hour during the weekend of 25-26th January 2014, we are being asked to join 600,000 other participants to count the birds in our gardens. 
It's a simple survey but an excellent example of citizen science.Now in its 35th year, the RSPB BGB has revealed declines in once-common garden birds such as house sparrows, starlings and song thrushes whereas others, such as the wood pigeon have shown a dramatic increase over the past few decades.
This year, Winterwatch Extra will be live online over the weekend of the Big Garden Birdwatch, revealing intimate details of our feathered friends' lives as well as offering advice on all aspects of feeding and caring for birds and other wildlife in your garden. 
Don't forget to take part in the Big Garden Birdwatch and to join me and a variety of guests on Winterwatch Extra online.
If you have a question or if you've seen something unusual in your garden, please get in touch with us
@BBC_Autumnwatch
and
@BBCNature
or on our
Facebook
page.