Mull's white-tailed eagles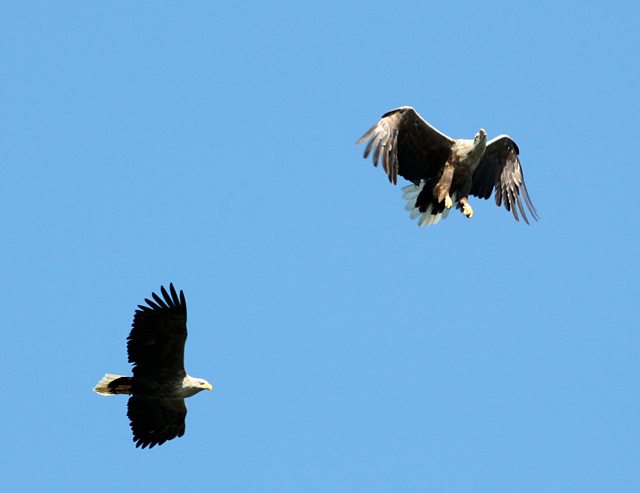 White-tailed eagle by Iain Erskine
Ten long years ago this week, Springwatch burst onto our screens for the first time and the live outside broadcast in Week One came from the nest of Mull's A-List white-tailed eagle pair, Skye and Frisa.

I'll have more news about Skye and Frisa and their chicks Itchy and Scratchy later in the series (Skye and Frisa are both fine and currently feeding their latest brood) but for this anniversary series, Springwatch are focussing their long lenses on a new pair: the female is Sula and her mate is Cuin.

Sula is 7 years old and hatched in a nest in Norway in 2007. She was one of the first eaglets to be released as part of Scotland's 'East Coast Project' – the third phase in the reintroduction scheme to return white-tailed (or sea) eagles to the UK which started way back on the Isle of Rum in 1975. Sula is now a fully mature bird with the pale head, yellow beak and eyes and of course the trademark white tail; plumage they moult into by the time they're adults at about five years of age.
She first appeared on Mull in 2010 and was easily identifiable from her white wing tags and the number '5'. She also had a radio pack which meant I could track her easily wherever she roamed. It soon became obvious that she was consorting with a local Mull lad – he too was hatched in 2007 here on the island and it wasn't long before they were officially logged as a courting couple!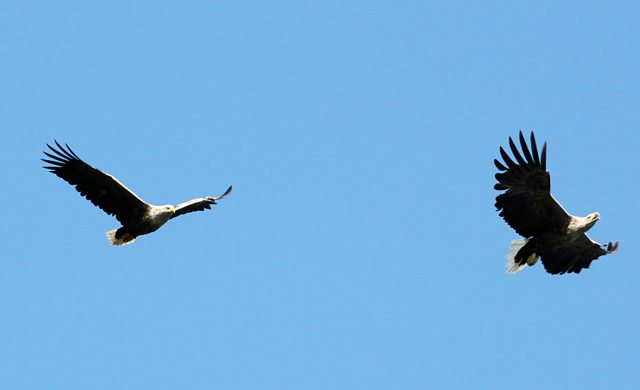 White-tailed eagle by Iain Erskine
Cuin – named after a sea loch on Mull – soon began to favour an area of spruce trees owned and managed by Forestry Commission Scotland (FCS) and Sula was quick to follow his lead. In 2011 they began to build a nest but it was blown out in an unseasonally fierce storm in May and that was the end of their first nesting attempt together. By 2012, the prospecting pair was firmly part of the FCS forest plan and logging and haulage work was carefully managed around them to avoid any disturbance. It was to pay off handsomely as Sula and Cuin successfully raised their first chick which fledged later that summer. They proved to be very good parents.

Last year, the happy couple were back again at their favourite nest and this time hatched two chicks. Tragedy was to strike though during another wet and windy spring when part of the nest fell away, taking one chick with it, dropping thirty feet to the forest floor and sadly not surviving the fall. But the other chick survived and flourished and it too fledged successfully.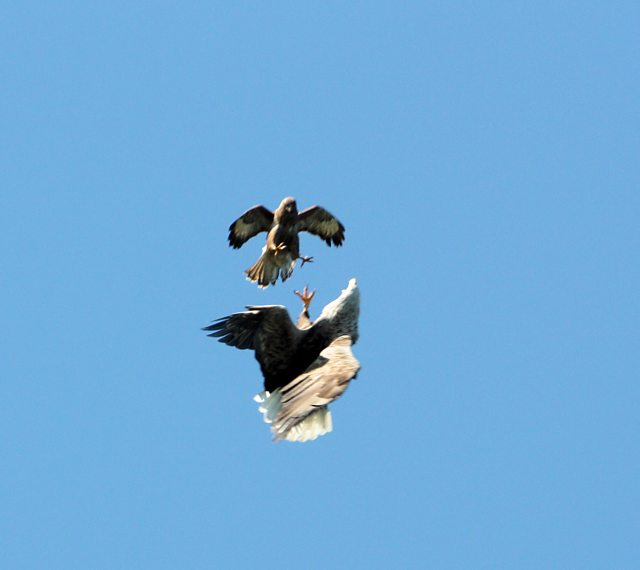 White-tailed eagle by Iain Erskine
And so here we are in 2014 and Sula and Cuin are carefully tending this year's unwitting star of Springwatch. From hatching a few weeks ago when, as a tiny ball of white down which could sit in the palm of your hand, the chick is already growing fast and the white down has already turned grey. So far, fish and seabirds have been the main prey items brought in and after just 9-10 short weeks it will be fully grown. Soon we should start to see the first brown juvenile feathers coming through and it will even start to feed itself. But for now, it's totally dependent on Sula and Cuin to feed it and to brood it against any bad weather.

We're looking forward to sharing this special sea eagle's family life with you over the next three weeks and beyond. Life can be tough, even for an eagle. So, as they like to say back in the studio: "Fingers crossed!"
Dave Sexton
RSPB Mull Officer