Working together to protect the UK's trees
Guest blogger: Professor Ian Boyd, Chief Scientific Adviser, DEFRA
The importance of tree health has been brought home to me quite graphically recently at the Chelsea Flower Show where I was visiting the Stop the Spread show garden. The garden, which was part funded by Defra and the Food and Environment Research Agency (Fera) was designed to show the importance of taking action now to tackle damaging plant pests and diseases.
Created by award winning designer Jo Thompson, the garden contrasts a healthy natural environment with a symbolic avenue of lifeless trees as a demonstration of what could happen if tree and plant diseases were left unchecked. It was a powerful message to see the beauty of the garden behind the barren sight of the dead trees.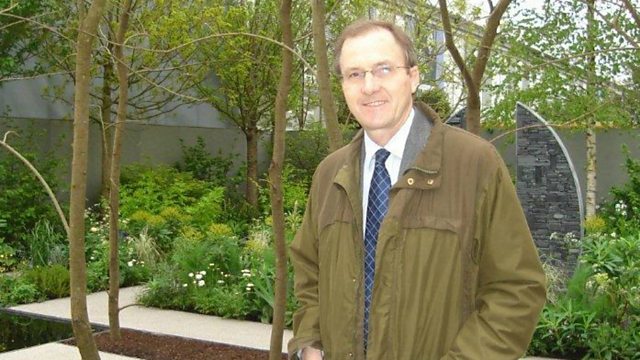 Ian Boyd in the Chelsea Flower Show Garden
In Government we're spending £8 million on research into tree and plant health and we've just begun the largest ever project to identify ash trees which might be genetically resistant to the disease, Chalara, which was discovered in the UK last year.  For the first time, tree health is one of the department's top four priorities, alongside animal health. But we all have a role to play.
I hope the garden will make people think twice about bringing home plants from abroad, you just don't know what might be stowing away, unnoticed and the damage it could potentially cause. I was in Australia and New Zealand recently to look at their arrangements and we probably need to have a similar level of vigilance to those counties. They have unique indigenous floras and faunas to protect but in reality our native woodlands are just as vulnerable and just as valuable.
We were very proud to win a silver medal for the garden but the real prize will be if people are more aware of the impact that tree disease can have and get involved by spotting signs of disease, cleaning their boots after walking in woods and forest and by not bringing back cuttings from abroad.
Find out more on about tree health on the GOV.UK website.
BBC News: Ash dieback: how the British landscape is changing.