Guest blogger: Dr David Aston, British Beekeepers Association
Early May started full of promise with our honey bees flying well in the warmer weather and an increasing number and species of bumblebees, solitary bees, hoverflies and butterflies as well as the bee fly seen in our garden in East Yorkshire.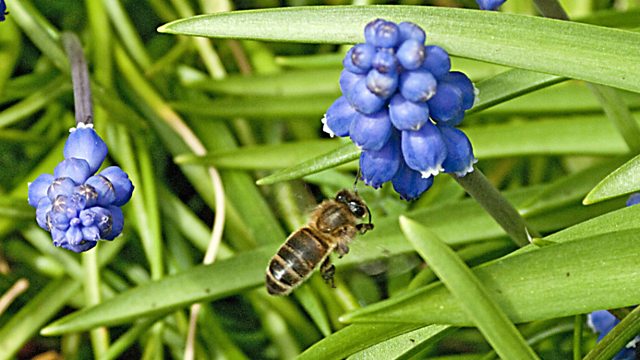 Honey bee on a grape hyacinth by H Hayday
Then the weather changed. Beekeepers can help their honey bees by ensuring they have sufficient food to tide them over the poor weather but wild bees as not so fortunate and run the risk of dying through starvation. So we have been regularly checking our bees to make sure they have sufficient food (sugars and protein) to rear the increasing number of young bees the colonies are now producing.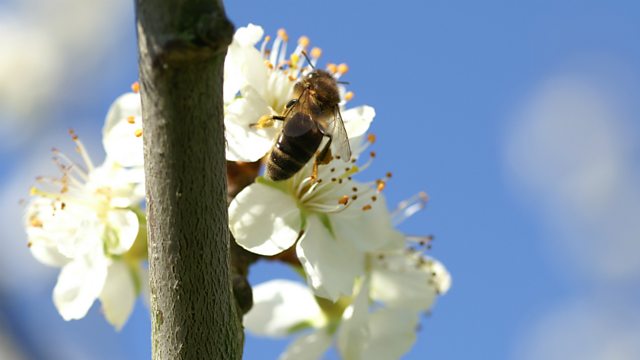 Honey bee on apple blossom, copyright BBKA
Hopefully the weather will improve and all the pollinating insects will be able to benefit from the fruit blossom and the spring flowers we have in our garden. In the surrounding farmland the fields of oilseed rape are in full flower and are a hugely important forage source for all pollinating insects.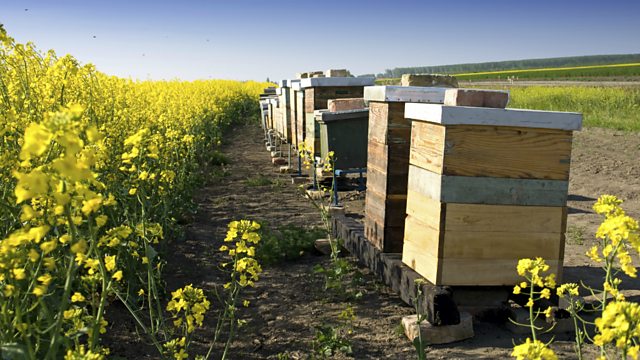 Beehives and oilseed rape, copyright BBKA
May is usually the time for the natural process of swarming to occur and the confinement of honey bees in their hives during cold and wet weather can trigger preparations for swarming so that when the weather improves they swarm. In readiness we are making sure we have the equipment ready to deal with the swarming whether by catching and hiving them or carrying out a beekeeping manipulation technique called artificial swarming.
The British Beekepers Association website has more information about keeping bees, including what to do if you have a swarm.