As the UK recovers from a very stormy start to the season, Winterwatch is heading up to the Scottish Highlands to investigate the ingenious ways our wildlife copes with lean times and harsh weather.
Our new home this winter is Mar Lodge Estate, owned by the National Trust for Scotland. It's on the wild eastern edge of the Cairngorm Mountains, and is home to a rich array of wildlife, including golden eagles, black grouse, otters, pine martens and red squirrels.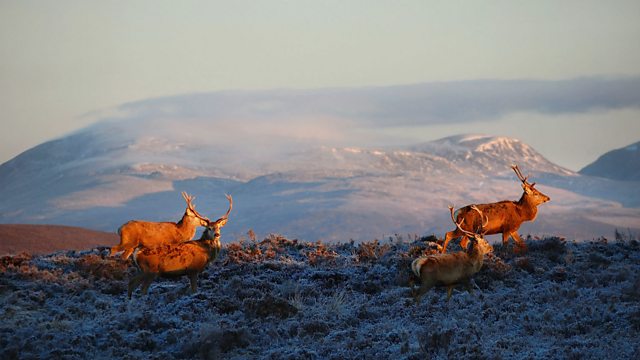 Scottish deer in a winter landscape - Gavin Macrae
Chris Packham, Michaela Strachan, Martin Hughes Games and the rest of the team have dug out their thermals and woolly hats for the trip north: Mar Lodge is officially one of the coldest places in the UK, with minus 27.2 degrees Celsius recorded nearby in one extreme year.
We're going to set up our live cameras in the rugged, beautiful landscape around Mar Lodge. They'll be recording day and night, offering us intimate insights into the lives of the local wildlife. Our daily show on Red Button and Online, Winterwatch Extra, will be the streaming live feeds throughout the day. Presenters Euan McIlwraith and Richard Taylor-Jones will be keeping an eye out for golden eagles, so if one flies into frame, Winterwatch Extra will be the first place you'll see it!
Our wildlife cameramen will also be staking out the Highlands, filming red deer, otters, dippers, ptarmigan, mountain hares and a host of other species in this wild, dramatic region. 
But it's not only Scottish wildlife that has a hard time during the winter months. We're working with Oxford University to investigate how garden birds feed at this critical time, and we want you to get involved in a ground-breaking experiment.
We'll also be celebrating the best of the UK's winter wildlife with stories from across the nation. Our study of Brighton's urban foxes continues as Chris goes on the trail of a record-breaking, adventurous dog fox; we look at the rich and surprising array of mini-beasts that shelter in our homes in winter, and we get unique images of red kites roosting in wild weather. 
As ever, we want to hear about your winter – let us know what wildlife you're seeing in your patch, and send us your pictures and videos.  You never know, they might catch the eye of Unsprung presenter Nick Baker and end up being featured in our spin-off show, which goes out every day after the main show, initially on Red Button and Online, and then BBC2 on Wednesday 22nd.
And finally - for the first time - Winterwatch will continue beyond our BBC2 transmission. We'll be taking part in the RSPB's Big Garden Birdwatch, the UK's biggest citizen science project. We'll have three extra days of live webcams from around the UK, and Iolo Williams presenting the show on Red Button and online.
So join us for a feast of winter wildlife, starting from 9am on Monday 20th January on Winterwatch Extra on Red Button and Online, and through the rest of the week on BBC2.