Filming Hebrides: Islands on the Edge in spring
Guest blogger: John Aitchison (Wildlife Cameraman/Producer/Presenter)
To make a film about a wild place is like writing to someone you love; you really have to care. And it takes time to know a place well enough to care, just as it does a person.
For almost twenty years I've lived on the west coast of Scotland and I've seen its many moods. Spring here can be a soft glory of opening bluebells and oak woods full of warblers' song but late May can also bring storms with 110 knot gusts, as happened when I was filming Hebrides: Islands on the Edge.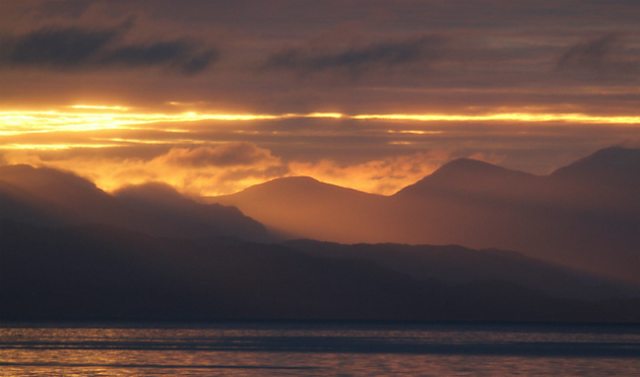 Sunrise from Rum by John Aitchison
Winds like that threaten lives but they define a place too. This landscape shapes its inhabitants so Hebridean animals are necessarily tough and resourceful, like their people. In that wildest of springs I filmed a family of redstarts which survived against the odds when their food supply was devastated by the storm. A family of short-eared owls was less lucky.
Distilling the essence of spring into a film takes many days in cramped hides, days of cold and sun and rain, but after a long stormy winter I long to see and to hear this transformation, to smell and touch it.  You can feel the spring arrive deep inside yourself as well as in the world outside. It feels like a heart-felt sigh.
You can watch Hebrides: Island on the Edge on BBC Scotland or iPlayer. Follow John on Twitter at: @johnaitchison1#BBCHebrides and visit his website: www.johnaitchison.net
John's work will be featured again later in the spring, in Wild Cameramen at Work, to be transmitted initially on BBC Scotland.