Well, it's Winterwatch already and I can't wait! This will be my second since joining the 'Watch' teams, just over a year ago. Working on the Watches is like joining one big family of wildlife enthusiasts.
Yes, they are a team of highly professional broadcasters that come together to produce a piece of TV magic out of the apparent chaos of cameras, cables, lights and all the spaghetti of live outside broadcasting, but it's deeper than that: everybody I've met is passionate about TV and wildlife.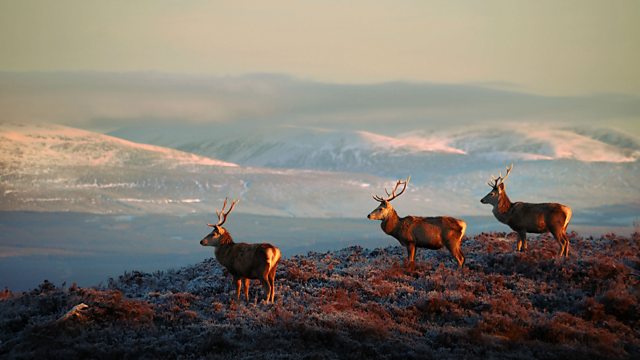 Stags in Scottish hills by Gavin Macrae
Stories are swapped, wildlife facts squirreled away for future interviews (lichen can live in outer space!) and it's great to be surrounded by folk that share a love of the countryside. 
During Autumnwatch Extra we interviewed what seemed like hundreds of folk. Twelve hours a day for five days. The oft-asked question was "How do you keep going on live TV with guests most of whom will have never been on television?". Well, at the risk of talking myself out of a job, it's easy. There' s nothing more interesting than chatting to folk who care about something deeply.
And the joy of Extra is that there's time… folk can settle, breathe and  share their passion. For Winterwatch we're returning to Scotland; this time at Mar Lodge, close by the Glenshee ski resort. The gateway to the Cairngorm mountains and, of course, neighbours with the Queen at Balmoral. 
This area is a magical place which plays a regular part of my working year as a reporter/presenter for the BBC. I've walked the Lairig Ghru from here. Camped here and had some of my best wildlife experiences here.
Last Christmas I cooked a salmon on an open fire by the river, then smoked it with sawdust I'd sawn from a Scots pine branch. A final addition was a wild sorrel sauce, the key ingredient which had taken me all morning to find beneath the snow. I'm just packing at the moment. Warm gear. There's always snow around. And last year minus 20 odd degrees! So an extra artic sleeping bag is going in as well. 
Plus Burns Night is next Saturday (25th) so an emergency haggis plus a copy of Robert Burn's epic comedy poem Tam O Shanter is going in the bag. 15 minutes of witches, drink, women angry wives and a horse Meg with just a stump of a tail. I've got to learn it all by heart by the end of Winterwatch. 
So if you see a wee Scotsman wandering the  hills of Mar Lodge talking and laughing to himself, it's only me. 
Join us if you can.
See Euan on Autumnwatch Extra here.