This is a blog written by BBC Introducing artist Blue Rose Code about his time in Nashville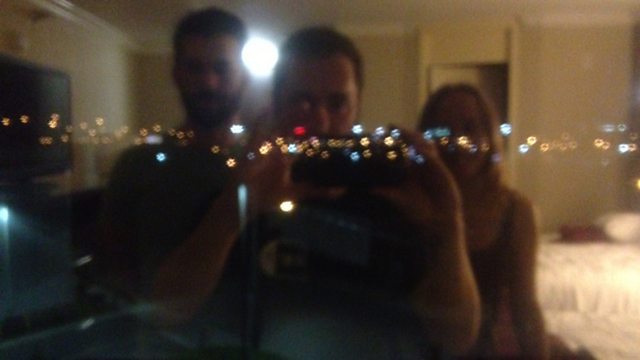 BBC Introducing: Nashville 2013
I begin my BBC blog flying o'er that famous state of Georgia. Just woken from the final in a nine hour series of in-flight cat naps. My chirpy seat neighbour, a stranger to me before we boarded, alas, not so much anymore, helpfully points out that I have the plane's window arch indented on my face, like some hirsute Scottish jelly mould.
I'm also travelling with two of my best friends and oft-time musical collaborators, Lizzie Ogle and Steve Smith. We've spent the summer playing UK festivals, Cambridge, Moseley Folk and Shrewsbury, and we've really had a rare time but when the BBC offered us the chance to come to the US, with man-legend Bob Harris, well, we were fairly keen.
Craning my neck to count the rows upon rows of garden swimming pools lining the Georgia homesteads, and the odd looking sports fields for baseball and gridiron, with their arcane and unintelligible markings and grand stadia.
The truth is that I love visiting the US. However, it's not just San Fran and NYC that I love, it's the Omahas and the Missouris, the Nebraskas and the Tulsas. I'm feeling very grateful to be here. Well, almost here.
We're almost wheels down in Atlanta and my shuffle has offered up Peter & Kerry's I Don't Know hot on the sweet heels of Anais Mitchell's Dying Day. There'll be a brief pause for yawns and beard a-scratchin' in the airport and then we barrel on to Tennessee. To Nashville, Music City.
After dropping our gear off at the hotel, we're off to a party thrown by the actor and Americana afficionado Ed Helms, who, like Whispering Bob, also has a showcase during the Americana Fest. I picked myself up a fairly tasty shirt on Cheshire Street in London before I left, I'll be both getting off my horse and drinking my milk, all I need is the neck tie.
The captain is making his announcement and we're cutting through the grey on grey on grey of Atlanta cloud cover, I can hear the landing gear fighting its way free, ready to roll us home and, at this point, i just can't resist a wee bit of Ray Charles. 
This is where it starts, lovers, here we are and here we go.
Blue Rose Code