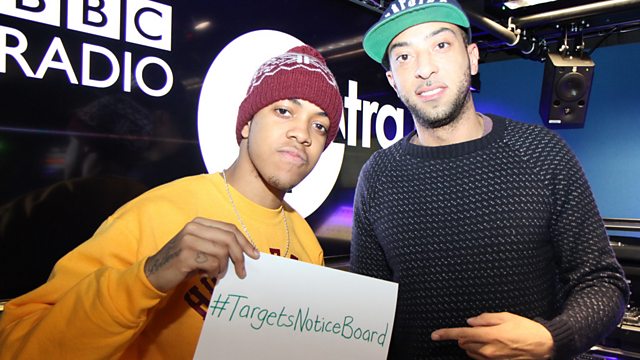 Once upon a time there was no internet. I know, right?
It was a dark time for musicians. They'd stick up hopeful notes in newsagents, or post adverts in the classified sections of newspapers and music mags:
 
"Guitarist needed for touring band, must have own guitar, be able to play it and be willing to travel."
 
Fortunately since then, technology has made it LOADS easier for you to make, share and promote your music, especially at a grassroots level. But even with the world at your fingertips, it can be difficult for artists and musicians to make real-life connections.

Here at the 100% Homegrown show on 1Xtra, we get sent loads of amazing music and get to meet a lot of you too, but we know that a lot of artists starting out don't have that opportunity to meet and collaborate with other musicians.

Here's what my presenter DJ Target has to say on the matter: "A lot of aspiring artists don't have friends who are into the same music, or maybe they live somewhere a little bit isolated, like a small village. We know there are lots of artists in need of producers, singers or songwriters. You might have killer beats but no-one to grace them."
 
So we thought why don't we create somewhere where people can unite online?
We came up with the hashtag #TargetsNoticeBoard on Twitter, a platform we knew a lot of artists and MCs were using anyway. Everything lives on that hashtag – there's no website, no form to fill in, no sign-up fee. Here's how you use it:
1.       Say who you are and what you do.
2.       Say who you want to collaborate with.
3.       Put a stream link to your music so other artists can hear what you sound like without any long download links.
Every week, Target plays some of the best music on the NoticeBoard on the radio.
When we launched it a year ago, we had no idea what a success it would be.
So far, we've had several full length collaborations as a result of Target's Noticeboard. Like this one from Emma Marie Parks from Birmingham and Celestial Trax from London.
It's not just up-and-coming artists who check out the hashtag.
Everyone from Radio 1's Skream and Toddla T to MCs like Benny Banks, Wiley and Wretch 32 check it out: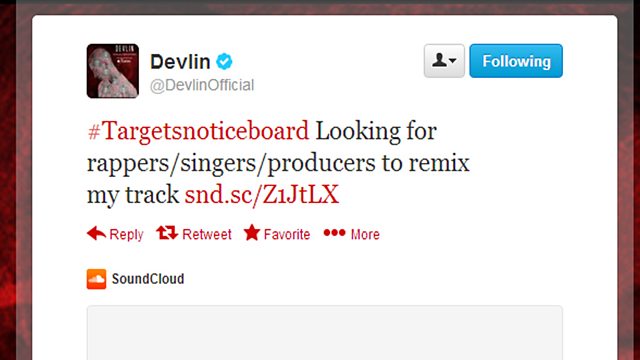 In August, we took Target's Noticeboard on the road to one of London's leading urban music nights, JumpOff.
We chatted to a whole host of up-and-coming artists in the foyer, and even bumped into a few better-known MCs:
Since we first launched it, we've been overwhelmed with the amount of support from across the music industry – not to mention the number of up-and-coming artists using it to find connections and make music that wouldn't exist if it wasn't for Target's Noticeboard.
This is just the beginning. We've got some really exciting things planned for the next year, including taking
#TargetsNoticeboard
on the road across the UK.
But the most important thing to us is that you guys keep using it – it's open 24 hours a day, 365 days a year – so why not click on the hashtag and see for yourself?
You never know who'll be on there…