The first of many BBC Introducing sessions on BBC Radio Scotland: Saint Max & the Fanatics
Kicking off a new monthly feature on my weekly BBC Radio Scotland show, I couldn't have picked a better band for my debut BBC Introducing LIVE session. With Saint Max & the Fanatics, from Creetown in Dumfrieshire, here is a fresh-faced 18 year singer-songwriter backed by equally youthful rhythm and horn sections, both of whom have the necessary chops and the skills to pay the bills. Take a soupçon of Blur, a large table-spoonful of Franz Ferdinand, a sprinkle of Ska and Two-Tone and add a drop or two of early Smiths and you're getting near to Max's energetic and explosive new-wave pop.
Dressed in a dapper tweed-jacket (a man after my own heart!) and a psychedelic shirt and tie combo, he was warm, intelligent, enthusiastic, chatty and keen to rip through the arranged session tracks which he and his well-drilled band duly did. Down-to-earth and yet comfortable in front of the camera, here is a genuine star in the making!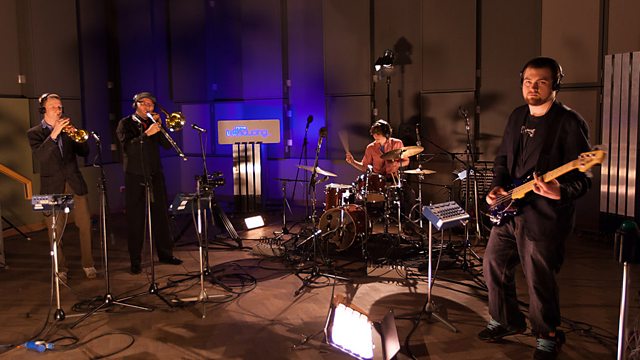 Saint Max and The Fanatics live from Studio One
As soon as I heard his debut EP, via the BBC Introducing Uploader and in hand-made CD form, recorded in Glasgow's excellent Green Door Studios; its well-crafted song arrangements, uncliched lyrics and plentiful melodic hooks reeled me in and I was immediately taken by the five tracks therein. There's no pandering to fashion, trends or the ever-changing zeitgeist but the sound of someone carving out a genuinely personal path of their own. That's what I'm always looking for in an artist, no matter what genre or musical style. It's great to see Steve Lamacq from BBC 6Music thinking likewise when it comes to Max - he's played him on air already as well.
Watch Saint Max and The Fanatics perform Afraid Of Love
I'm extremely pleased to have this new BBC Introducing feature as part of my show, and I look forward to bringing you a new filmed session every month. In March I have an Edinburgh band called Homework. After 14 years of broadcasting weekly new music programmes for BBC Radio 1 and BBC Radio Scotland, I still get the same buzz when discovering a nascent, under the radar talent - especially one as fully formed as Saint Max.
Track down the EP online (and in physical form if you can), have a look at these BBC Introducing videos and hear a new band playing to their strengths LIVE in the BBC Scotland studios in Pacific Quay, Glasgow. Catch them playing a festival over the summer and watch this space for new recordings and a forthcoming debut album... Become a fanatic, why don't ya?!!