Homework in session for BBC Radio Scotland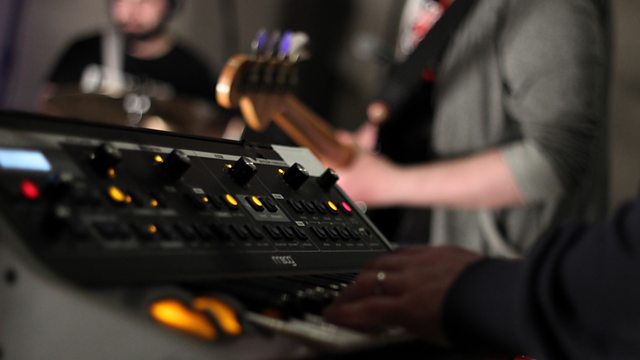 As we step further into our monthly BBC Introducing session feature, after an excellent start from Saint Max & the Fanatics; March saw the performance of a certain quartet by the name of Homework, from all across Scotland but currently based in Edinburgh. Having come across the band a few years ago at T in the Park - only their 3rd gig after entering the T Break initiative without any expectations - straight away I was drawn to their mix of technology and tradition, as they fused indie guitars with synths and laptops. Now eschewing the digital side for strictly analogue action, if they can't play it they don't. Laptops often malfunction, drift or stop onstage you see!
With live drums, bass, synths and guitars, the band showed up on Monday 25th March 2013 in a buoyant mood and full of chat. They set up, soundchecked and had photos taken accordingly. I was well-attired with a new MOOG t-shirt specially for our communal photo too! They're a lovely bunch, and I knew what to expect as I'd seen them live on a good few occasions. Covering Steve Miller Band's Abracadabra for the show (a dark and off-kilter remake, with tongue firmly in cheek!) alongside 2 prime cuts from their newly released 13 Towers debut album, they performed live versions of All I See (watch it here) and previous single The Edge Of Control Was Black, which you can watch below.