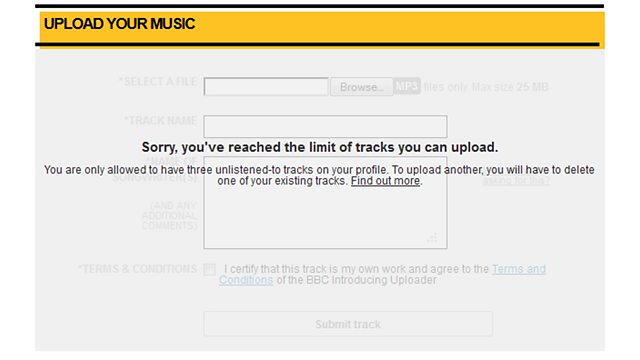 Example of the unlistened-to track limit message
From now on, you will only be able to have three tracks that haven't been listened to on your Uploader profile. If you try to upload a fourth you will see a message displayed (similar to above) instructing you to delete one of the tracks to make room for another.
If you already have more than three unlistened-to tracks on your profile, next time you log in you will have to delete older tracks to make room for new material.
You do not need to delete tracks from your profile that have been listened to or previously broadcast. These do not count towards the limit and you'll want to keep these in case they get played for the first time or make another appearance on the airwaves.
Of course, if you have any questions about the limit, please contact us through our contact pages and we'll get back to you as quickly as possible.