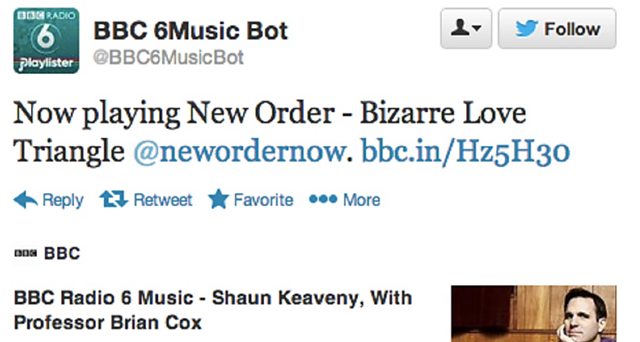 The BBC 6 Music Twitter bot
What is this?
The original idea came from a friend whose music occasionally gets played on Radio 1, 1xtra and 6Music. Almost always he missed this and either found out later from a friend or never found out at all. But he does use various bits of social media (including Twitter) to make contact with fans and promote his releases and live appearances.
Unofficial now playing Twitter feeds exist for some (though not all) BBC radio networks. The only thing this adds is greater coverage of radio networks and the inclusion of @mentions so now playing information appears in the mentions timeline of the artist (or artists) concerned.
The accounts we created are designed to notify artists and not designed to be followed unless you want to drown in now playing information. That said the unofficial Radio 1 now playing account has over 40,000 followers...
How to use this if you're an artist
To power online music services such as BBC iPlayer Radio, Playlister and /music the BBC uses metadata provided by MusicBrainz, a community maintained music encyclopedia. If you use Twitter and you're a music artist or an agent or a publicist or similar and would like now playing notifications you need to check that your Twitter account handle is in MusicBrainz. Go to MusicBrainz and search for yourself or your band using the artist search. And hopefully you'll see yourself in the search results. (If you don't see yourself in the results then you'll need to add yourself or your band to MusicBrainz. Tom Robinson wrote an excellent guide to getting started with MusicBrainz here.) Click on the search result and you'll see your details. At the bottom of the right hand column you should see a list of external links. If your Twitter account isn't there then you'll need to add it.
Luckily anyone can edit MusicBrainz but first you'll need to register here. Once you've done that and logged in you'll see an "editing" section in the right hand column of your artist page. Under there there's an option to "Relate to URL". Click that, select "has a microblog at" from the type drop-down, enter the URL of your Twitter account, press "Enter edit" and next time one of your tracks gets played out on BBC radio you should get a Twitter notification.
Whilst you're editing MusicBrainz...
...you can also add links to your homepage, Myspace page, Facebook page, SoundCloud page, blog, YouTube channel, music store, Discogs page, Wikipedia page etc. Links to all of these will automatically appear on your BBC /music page.
It's also worthwhile adding any track and release information and keeping that up to date. Because artist names can be ambiguous (there are 17 different artists called Aurora in MusicBrainz) we use track titles to disambiguate artist names and match them to MusicBrainz. So if the artist is called Aurora and the track title is Spectral Bass we can confidently say it's this Aurora.
Without the track title in MusicBrainz we can't reliably get a MusicBrainz artist ID and without that we can't get your Twitter handle. In general the more information you add to MusicBrainz and the more up to date that information is kept the better your representation on current and future BBC music services.
Behind the scenes
National music radio networks (and Radio Manchester) use a digital music playout system, where tracks are ripped to the equivalent of giant iPods and played out from a touch screen in the studio.
Every time a track starts to play the system sends a message to a message queue with now playing information (start time, duration, artist(s), track title, release title, label, catalogue number etc). Another piece of software picks up these messages, matches the artist(s) to MusicBrainz identifiers and puts the enhanced data onto another message queue. Which gets picked up by another piece of software which matches the network and timing information to programme information in PIPs (the system behind BBC iPlayer, BBC iPlayer Radio and /programmes). And another message queue takes that data and writes it to PIPs where it's used to power tracklists on programme pages and /music.
We've tapped into these queues of queues to get track information, artist MusicBrainz IDs and programme information. And then looked to MusicBrainz to check if the artist has a Twitter handle we can use to generate a mention.
Some caveats
1. Only the networks mentioned above currently use the music playout system. If other networks in the nations and regions switch to the same system then we'll add similar accounts for them.
2. Some pre-recorded programmes do not include now playing information.
3. TV does not use the playout system so any music played on TV as performance or background isn't included here.
4. In the past more specialist music was often not ripped to the playout system but played from CDs and vinyl in the studio. We had no record of now playing information for this music. Increasingly even where music is not played out of the playout system, (meta)data for the track and timing information is entered so we do get now playing information.
This project is an experiment from BBC R&D. I'd be very interested in your feedback on it, so please leave a comment below.
Michael Smethurst is a Development Producer in BBC R&D