Hi, I'm Oli Bartlett, product manager for the BBC's Linked Data Platform.
Two weeks ago we ran an internal Connected Studio focused on the Linked Data Platform and 'people'.
The Linked Data Platform is a system designed to connect together the BBC's online content through the things of interest to our audience. My blog post has more information on how we do this.
There are some core things which capture users' interest no matter what BBC website they're looking at, or what type of content they're consuming. The most important of these is people. Whether it's people in the news, people in our radio and tv programmes or people in history, they can provide a common thread though much of the content we publish.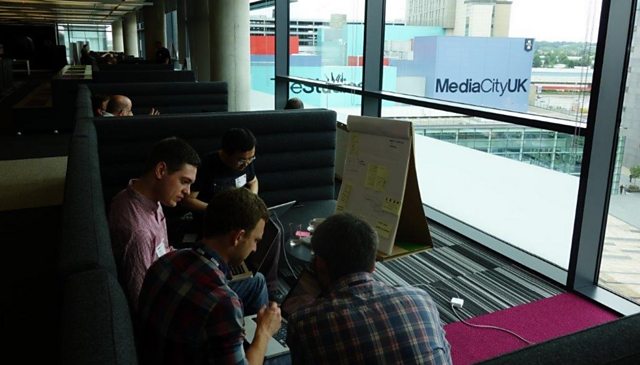 BBC teams at the linked data Connected Studio
The two aims of the event were to get a better understanding of how we can use 'people' to tie together BBC content online, and to put the Linked Data Platform through its paces.
Unlike previous Connected Studios, there was less of a focus on idea generation and more of an opportunity for BBC teams to really concentrate on using our production APIs and data to build on existing ideas and prototypes. We had representation from many of the 10 products across the BBC, including News, Sport, Radio, TV, Knowledge & Learning, Search and Children's which made this different again from previous events. It was much more about collaborating and sharing ideas than competing and pitching.
Prior to the event we loaded a significant amount of data into the platform. We harvested content and its related people from numerous sources around the BBC and loaded over 84,000 content items and references to 30,000 people into the platform. This (so far as I'm aware) was the first time such a breadth of content from disparate systems had been made available through one common API.
We also built some experimental features and tools on the platform such as a SPARQL endpoint (allowing people to run arbitrary queries on the store), a co-occurence API (to allow you to find, for any person, who is most commonly mentioned alongside them) and a tagging tool to allow teams to add more tagged content to the platform to help enrich their products as they were building.
For the event we chose to spin up a number of instances (one per team) of the platform in the cloud. This setup made operations very easy - recovery or reverting to a previous instance of the data or APIs was possible at the click of a button.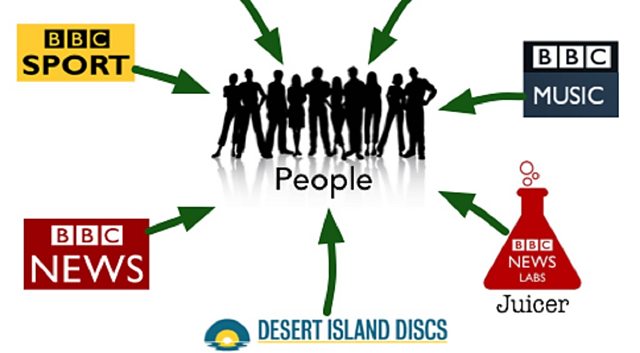 Part of a slide from the linked data Connected Studio
Given the time constraint compared with previous Connected Studios (this was a two day event) the outputs from the two days were very impressive. A couple of the highlights for me were:

 * A way to highlight people in News and Sport articles (and even in pictures) and allow the user to quickly find out a little more information about that person and to link to other BBC content featuring them. This used our Core API to pull in the latest content about a person. It showed how with relatively little development work, you could transform an existing piece of content into something much more engaging by simply using the data available.

 * A tool for creating 'people' in the system and made them available for others to tag with them. The interesting piece here was how the prototype dealt with emerging concepts (new people in the news for example) and how to manage scenarios where different people around the BBC create the same person but using different names (to take a recent example, "The Royal Baby" vs "Prince George of Cambridge"). This is one of the difficult problems we are trying to solve with the platform - that of creating the tools and processes for disparate teams across the BBC to share and manage a single evolving vocabulary of terms.
Sometimes in BBC Future Media we come across technical or editorial challenges which can only be solved with engagement from across the division. This event demonstrated how much enthusiasm there is for tackling the big problems and working together. As with most events, there are a few things we'd tweak next time, but in general it was a hugely successful day and we are already planning the next one (Linked Data and Places anyone?).
Oli Barlett is product manager, BBC Linked Data platform