It's hard to believe it's nearly a year since London 2012. After that incredible summer of sport, and what was generally regarded as the first true 'digital Olympics', we've been busy working on how we can roll out elements of that offer to the BBC's coverage of other sports.
This weekend we have a wealth of live sport running alongside our extensive coverage of Glastonbury which means that whatever your plans you'll be able to follow all our live sport and music across all your digital screens.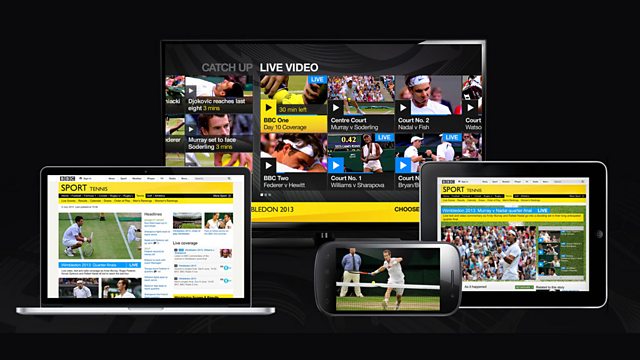 BBC Sport coverage across different devices

Our digital coverage of Wimbledon 2013 is the most extensive ever with a record 10 live streams available on computer, tablet, mobile and connected TV. If you didn't know all the ways in which you can follow the action then this page should help you out.
It's been a frantic championship already including losing the likes of Roger Federer, Rafael Nadal and Maria Sharapova in the opening few days of the event and our exclusive column with Andy Murray has helped drive much off-court debate on his challenge match with Serena Williams.
Then for this weekend's British Grand Prix as well as following the race live on TV and radio, Formula 1 fans will be able to customise their viewing experience online on the BBC Sport website through a live leaderboard, in-car cameras, choice of commentary, live text commentary, interactive forums, driver tracker and blogs.
You can also follow multi-platform coverage of all the action from the Diamond League Athletics in Birmingham and the Confederations Cup final in Brazil on Sunday.
Our ever popular live text commentaries on the BBC Sport website continue to combine updates from the action, analysis from BBC Sport pundits and the very best curated content from social media.
So while I will be at Silverstone on Saturday morning I know I won't be the only person checking the latest scores and updates from the second Test from the British and Irish Lions using the text commentary on the BBC Sport smartphone app.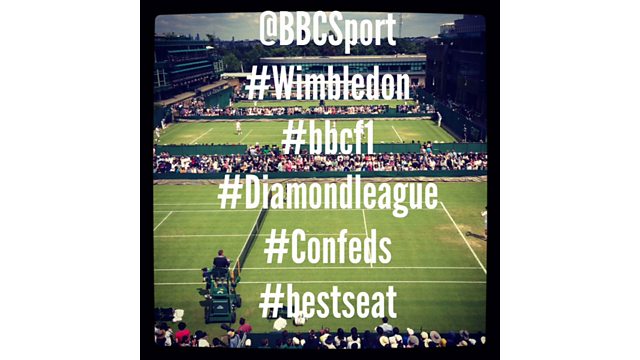 BBC Sport hashtags - follow the action

As part of our service to audiences we are also looking to provide a greater offering on social media than ever before. With a dedicated social media team now in place at BBC Sport for the first time, led by our new editor Chris Hurst, we are aiming to build on popular services such as @BBCSport, which already has almost 1.2 million followers, alongside growing accounts such as the BBC Sport Facebook page.
Just this week the BBC has launched its own Instagram account to help provide a behind the scenes look at major sporting events. Through our Wimbledon coverage we have also been able to present audiences with different experiences, experimenting with platforms such as Vine.
By engaging in new and creative ways of connecting with our audiences we hope to enhance the experience of those attending major events like Wimbledon, and for those not lucky enough to have tickets we are doing everything we can to try and make them feel like they are there.
In the coming months you'll see more social innovations, building on the live voting during our Confederations Cup broadcast where audiences have had their say via voting on the BBC Sport website or through a Twitter hashtag.
If you tune into BBC One for the final on Sunday night then follow @bbcmotd for more information on how to take part.
If you're watching Glastonbury on the BBC or our coverage of one of this weekend's range of sporting events we'd love you to share your experiences with us using #bestseat and send your photos, vines or details on how you're following one of the biggest weekends in the British calendar with us.
Meanwhile we'll have half an eye on next year too when the Winter Olympics, World Cup and Commonwealth Games will provide the opportunity to keep pushing on with our digital coverage of the biggest sporting events.
Ben Gallop is Head of BBC Sport Interactive and Formula 1.