I'm Jennifer Lyons, product manager for Connected Red Button in BBC TV and Mobile Platforms, Future Media.
Today I wanted to tell you about some exciting new features in the Connected Red Button and how this is going to give viewers more access to live events on the BBC.
Connected Red Button is currently available in Virgin TiVo homes by pressing the red button on the remote when watching a BBC channel on television, much like the hugely popular traditional Red Button service.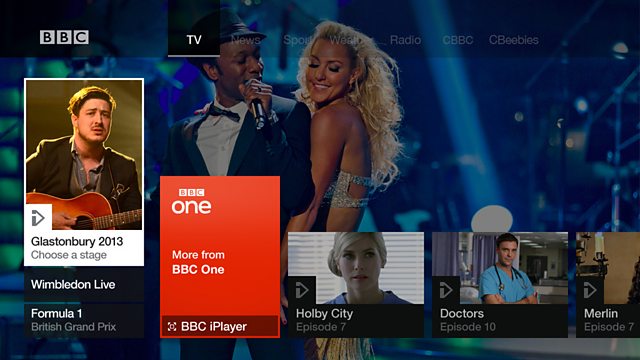 The promotional panel on Connected Red Button

In preparation for the big events this summer we rolled out a new version of Connected Red Button earlier this month which includes a promotional panel to the left of the main screen containing prominent links to additional BBC coverage of live action, events and programmes.
This promotional panel gives you quick and easy access to the most relevant and popular content available on the BBC and within only a few clicks on your remote you can be watching major events like Wimbledon, viewing the court of your choice, on the best screen in the house.
This new feature brings together the much loved Red Button content to the connected world, enabling us to bring the best of the BBC online and TV together.

Why press red?
You will regularly hear presenters promoting traditional red button content on air but this is the first time Virgin TiVo viewers can 'press red' to enjoy this additional BBC content as well.
This content will often be related to the programme the viewer has just been enjoying such as Springwatch, where you can watch the live webcams on red button, or special events such as BBC at Glastonbury and live sports coverage.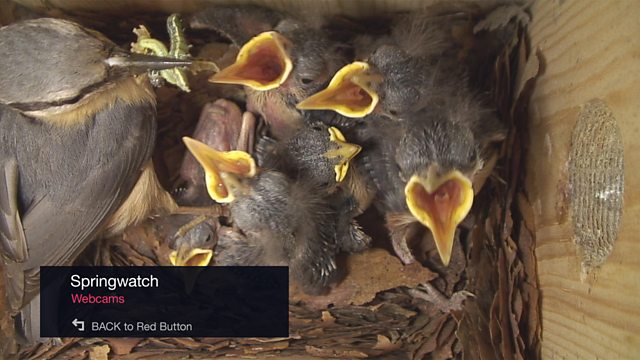 Springwatch web cams on the Connected Red Button

Our target launch date for this new release was early June and with good reason. Our challenge was to ensure that our viewers had access to as much of the BBC's coverage during this fantastic summer of live sporting and music events as possible.
This weekend we will be promoting the live tennis at Wimbledon, live stage action and highlights from BBC at Glastonbury and the Formula 1 British Grand Prix. Each of these events will be available to watch over this weekend via the promotions panel.

Bringing the best of BBC online and TV together
Since our launch in December 2012 we have continually tested our Connected Red Button service with our audience and gathered feedback. The results consistently told us that the ability to watch more live events and 'press red' for more programme related content was at the top of our audience's wish list.
It was also important for us to gain some parity with the traditional red button enjoyed by viewers of Freeview, Freesat, Sky and Virgin Media. These viewers already have the additional content via the Red Button such as Radio 1's Live Lounge, Final Score and Dragons' Den extra footage and the Virgin TiVo audience was clearly asking for this too.
The timing of the new feature was also important as we have been working with the wider BBC Distribution team on additional Red Button streams over the summer. This will give our viewers of Connected Red Button on Virgin TiVo even more coverage of the major sports and music events, see Alix Pryde's blog post for more information.
We worked closely with our colleagues across the BBC to ensure that we shared this vision between us and they have been instrumental in providing the content to support this feature. See more on the Red Button editorial content in Ian's post.

More from Connected Red Button
The future of Connected Red Button is an exciting one as we develop more features for current viewers and roll out to Smart TVs at the end of this year and more operator platforms in 2014.
We hope you enjoy this new feature and are looking forward to all the BBC coverage of the events coming up this summer. I will certainly be enjoying it all from the best seat in the house, my sofa!
Jennifer Lyons is the product manager for Connected Red Button.
Find out more about Digital Glastonbury: From stage to smartphone and how the BBC are using social media to cover the weekend.