BBC Lab UK: The Great British Class Calculator and beyond
Many of you might have seen The Great British Class Calculator a few weeks ago which captured the public imagination with a brand new model of British class. It inspired debate, curiosity, reflection and in some quarters even some parody! It also led to many people asking how we managed to produce such a large piece of original journalism.
The answer is BBC Lab UK, a truly ambitious multi-platform partnership project launched in September 2009 with the aim of producing ground-breaking science.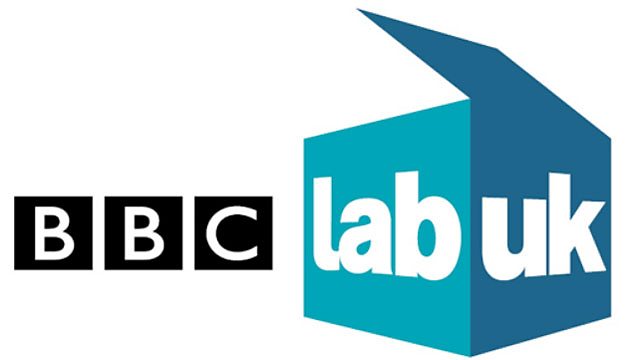 As one of the producers for BBC Lab UK I can tell you a bit about the project and the unique possibilities provided by its data architecture.
BBC Lab UK was originally conceived and commissioned as a re-usable survey engine that would allow top research scientists to harness the BBC audience to gather research data as viewers completed tests that revealed something new about themselves.
The partnership between the top British academics who designed the experiments and the BBC, who produced engaging interactive experiences, seemed like the very epitome of public service activity.
This was confirmed by our first experiment, a randomised, controlled trial of various brain training games called Brain Test Britain. The results were written up in the top journal Nature and were presented in a specially commissioned 60 minute episode of Bang Goes the Theory on BBC One.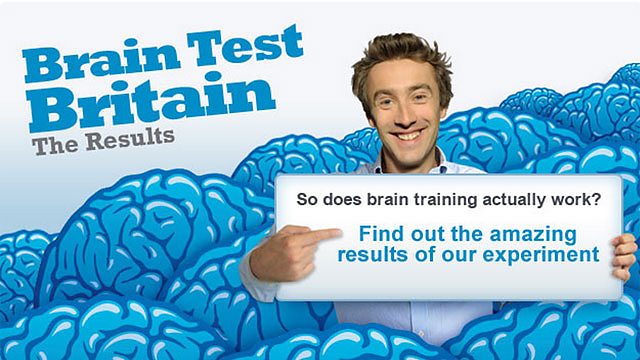 Brain Test Britain

More online mass-participation experiments soon followed looking at the factors that shape personality, musicality, the psychology of money and risk, all accompanying broadcast programmes such as Child of our Time, Watchdog and Radio 3's Mozart season.
The ingenious data architecture of the BBC Lab UK platform means that every experiment we create gathers data onto a common database which uses anonymised unique identifiers for participants which are consistent across all experiments.
So this means if one person participates in, say, The Big Money Test and The Big Risk Test, it's possible to link those datasets together to create an 'uber-dataset' containing all the measures from both experiments. In fact 10,691 people completed both, which is a very respectable dataset in its own right.
The potential for ground-breaking data analysis on this data by social scientists and psychologists alike is huge and we will hopefully be developing this aspect of the project more in the future.

A new class system from big data
The Great British Class Survey was designed and built on the BBC Lab UK platform to test a new theory in sociology based on Pierre Bourdieu's notion of cultural capital being an acute indicator of class.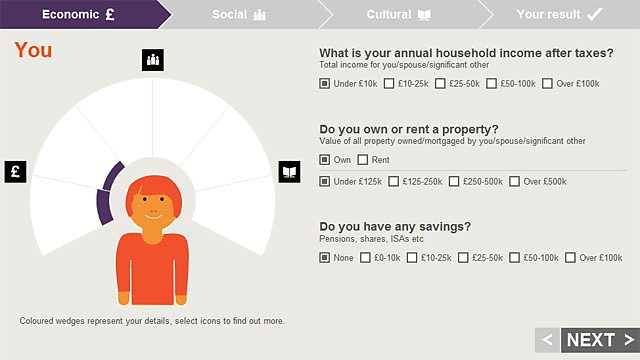 Answer economic, social and cultural questions to determine your class type

This means your consumption of culture, from where you eat out to how you spend your leisure time actually indicates more about you than your job, education or family background.
We examined the leading authorities on social class in the UK and discovered Mike Savage and Fiona Devine were the two most highly cited and influential thinkers on British social class.
We collaborated with them to develop a survey that would test some of their theories and the relative importance of cultural, social (the variety and influence of people you know) and economic (your total income, assets and savings) capitals.
Launched in January 2011, we asked over 140 questions of each participant and in six months had gathered over 160,000 cases of data.
Initially there was a plan to present the new class model in a documentary just three months later, but the massive amount of data and the extremely complex correlations between the variables took time for the academic team to examine.
In fact the very first version of the new class model finally emerged in September 2012.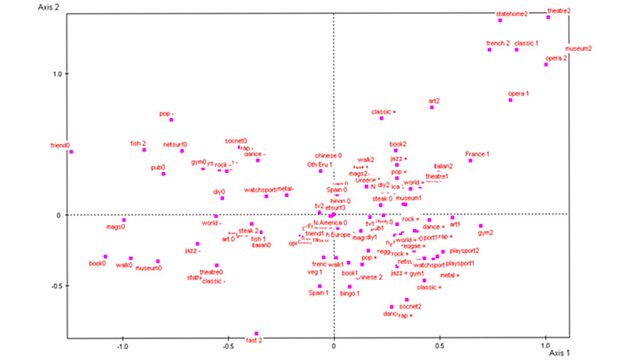 Complex statistical techniques were used to map associations between cultural pursuits

Using complex analytical statistics Mike and Fiona's research team were able to place all 161,000 participants of the original BBC Lab UK survey into one of the new seven classes, robustly and with great accuracy.
We continued to develop the editorial possibilities of their results and waited for their paper to be published in a peer-reviewed journal. It's an important part of the BBC Lab UK 'promise' that while we make our scientific tests as rigorous as possible, we also insist on the results being published in reputable peer-reviewed journals.
Once the paper was scheduled for publication we worked with the BBC News Visual Journalism team and a London-based agency called Applied Works who had already performed some prototyping on visualising the results.
The Class Calculator asked just five of the most indicative questions which would give the best chance of distinguishing the most correct class from the new model. It wasn't perfect, but it would certainly give most people an idea of where they fit into the research.

What next for BBC Lab UK?
2013 could be a bumper year for BBC Lab UK results. The Big Personality Test was launched in 2009 and 750,000 people have now taken part in the personality and life events survey.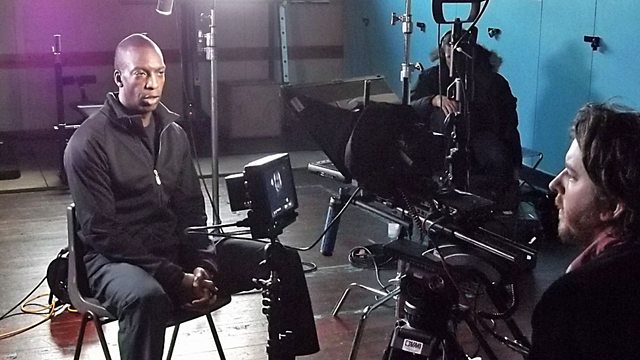 Michael Johnson filming Can You Compete Under Pressure?

The results are likely to be written up in two or three academic papers and will analyse concepts such as could entrepreneurship be a facet of personality and do you conform to your regional personality stereotype?
There's also the intriguing possibility of the data from Test Your Morality being presented as a new model of morality as it continues to be analysed by behavioural scientists at the London School of Hygiene and Tropical Medicine.
And the techniques of sports psychology received a thorough examination in Can You Compete Under Pressure? A unique experiment fronted by Olympic legend Michael Johnson.
We're excited about the forthcoming results and looking forward to engaging with the British scientific community around the new combined datasets, generated by a unique collaboration with the BBC audience.
Michael Orwell is a producer in BBC Knowledge & Learning.