I'm Jo Wickremasinghe and I'm head of product for BBC Weather and Travel News.
Like many of you I was grappling with 'snow week' last week, constantly checking travel and weather updates to see whether my commute – and my carefully laid weekend plans – would be disrupted.
With several weather warnings in force from Thursday 17 January it was a very busy time for the BBC Weather online team as we experienced record-breaking traffic to the site.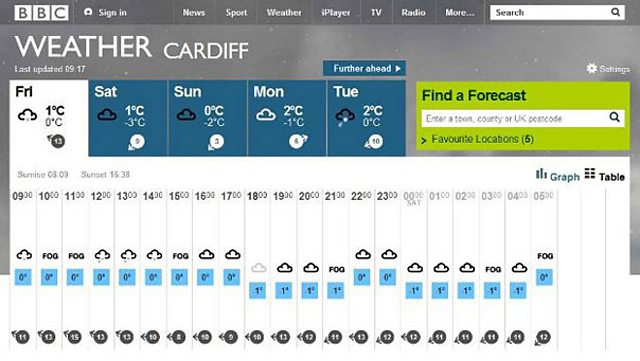 BBC Weather forecast page for Cardiff on Friday 18 January showing heavy snow fall

Last week we saw our highest weekly traffic to http://www.bbc.co.uk/weather/ in the past few years and certainly since our re-launch in November 2011.
We received just over 20 million unique browsers last week compared to a weekly average of around 7.5 million in 2012.
We're happy with how the site performed under the extra strain and we want to make sure it performs as you expect so do let us know if you have any feedback or suggestions in the comments.
Adverse weather and snow often drives traffic to our site as people look to find out how they'll be affected and what their journeys will be like.
Previously our highest week of traffic was in late November 2010 which was the last time the UK was heavily snowed under. On that week the site was visited by nearly 14 million unique browsers.
That makes our new 2013 peak around a 47% increase in traffic compared to the previous peak.
We know some of the regular Internet Blog readers like to chew through some stats so here are a few of the more interesting trends we've spotted:
Gearing up for the weekend: The peak days were Thursday 17 January (when the site was visited by over 7.3 million UK unique browsers) and Friday 18 January (when the site was visited by over 6.8 million UK unique browsers).
Checking on the commute: The peaks in traffic were on the afternoon of Thursday 17 (3pm – 6pm) and the morning of Friday 18 (7am to 2pm). At those times the BBC Weather site was visited by more than 700,000 unique browsers every hour (around five times the level of traffic we'd see in a typical hour of a typical day).
Mobile and multiple devices: In a typical week just under a quarter of our unique browsers are mobiles or tablets. Last week this figure was nearer a third as people used multiple devices to keep track of the forecast.
The growth in mobile and tablet usage of BBC Weather online is something we've been tracking for a while and we are working on improving the experience for the range of devices people now use to access BBC Weather.
I hope that was an interesting behind-the scenes-insight into how last week's weather impacted the site.
For some parts of the country the weather forecast next week looks a lot better, and we may even see the return of some sunshine this weekend.
But for others the snow continues to fall and there may be localised flooding. So be prepared and stay ahead of the weather by visiting http://www.bbc.co.uk/weather/ to get the latest weather forecast for a location near you.
Jo Wickremasinghe is the head of product for BBC Weather and Travel News.