I'm Daniel Bean, Senior Product Manager of iPlayer Radio, in the BBC's Future Media division.
It's been over 16 months since we launched the new homepage for BBC Radio at http://www.bbc.co.uk/radio/.
This is what it used to look like: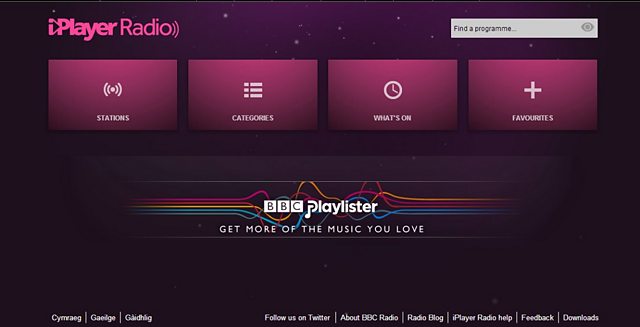 The old Radio homepage
We set out to offer you a very simple homepage where you could quickly and easily get to the right places for your favourite radio, whether it be listening live or catching up on something you've missed.
This seems to have worked well. However, part of our job is to try and find out how we could improve things. We look at what users do, listen to their online feedback and comments and see how they respond to our online questionnaire.
You've told us you'd like it to be easier to find your way around the radio homepage and navigate to where you want to go. Therefore, on the new version of the page we are launching today we show examples on the page of what each section does. For example, instead of having a button that just says 'Stations' you can now see a list of stations underneath the button when you open the page. The 'Stations' button on the old radio homepage was by far the one you used the most, so this was an important section for us to get right.
We are also doing more to help users find things they want to catch up on. The most popular categories and programmes are more prominent on the new page and we are linking directly to our selection of programmes, clips, podcasts and events, as many of you were keen for us to give you more recommendations.
The page has had a subtle design makeover which we hope will improve the homepage for you as well as make it easier for you to use. It's also been built to be responsive, which means that you see the same page on all devices but its elements get rearranged depending on whether you're using a mobile phone, tablet or desktop computer.
As of today, this is what the new version looks like on a desktop computer: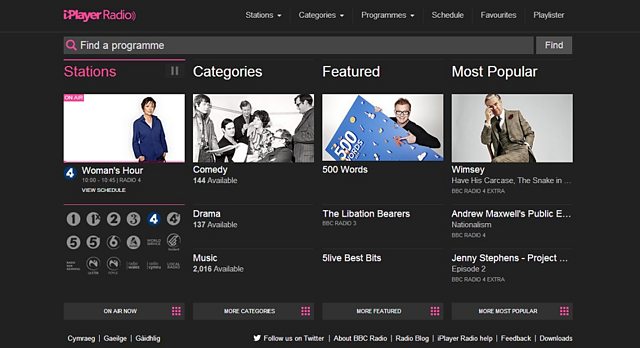 The new Radio homepage
Let us know what you think of the page. We will as always keep you posted on any upcoming changes, and I hope you like what we've done so far!
Daniel Bean is Senior Product Manager, iPlayer Radio, BBC Future Media