There's a huge variety of entertainment available on Red Button this week, from music legends and pop's brightest stars rocking out for a good cause to an EastEnders soap extra and live MotoGP and rugby union action from BBC Sport.
BBC Children in Need Rocks 2013 – Backstage and Encore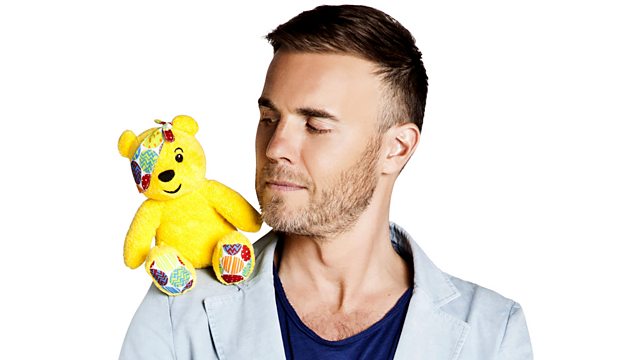 Gary Barlow and Pudsey
Go behind the scenes of Gary Barlow's two star-studded concerts with Children in Need Rocks Backstage, featuring a galaxy of music stars including Robbie Williams, Dizzee Rascal, Ellie Goulding, Kings of Leon and Barry Manilow. And Red Button viewers can also enjoy a round-up of the best performances, as well as exclusive bonus tracks, with Children in Need Rocks Encore.
CiN Rocks Backstage
Wed 13 Nov, 6.30am-10.30am and 7pm-10pm
Thu 14 Nov, 6.30am-8pm
CiN Rocks Encore
Thu 14 Nov, 9.55pm-Fri 15 Nov, 7pm
Radio 2 in Concert: Paul McCartney
You can still watch Paul McCartney's intimate concert recorded at Maida Vale studio last month for Radio 2 on the Red Button. The legendary ex-Beatle plays classic tracks and songs from his latest album New.
Sat 9 November, 6am-11.30am, 1pm-2pm, 4.30pm-5.30pm and 11.30pm-12.45am
Sun 10 Nov, 1pm-2pm and 2.30pm-3.40pm
Mon 11 Nov, 4am-1.45pm, 4pm-8pm and 11.30pm-12.45am
Tue 12 Nov, 4am-Wed 13 Nov, 6.30am
Wed 13 Nov, 10.30am-7pm and 10pm-Thu 14 Nov, 6.30am
Thu 14 Nov 8pm-9.55pm
EastEnders
Get an extra insight into Walford's latest love story as Bianca and new man on the Square Terry give two very different accounts of how they met. Did they really save each other's lives and is the new couple prepared for life in Walford together? This special Red Button episode stars Patsy Palmer as Bianca Butcher and Terry Alderton as Terry Spraggan.
Sun 10 Nov, 3.40pm-5.30pm
Countdown to the Rains
Join Kate Humble and Simon King from their oasis camp for highlights of Africa 2013: Countdown to the Rains. The duo will answer viewers' questions and talk to experts about the impact of the drought, discovering which animals thrive and which struggle to survive. Kate also learns about the camera techniques used to capture the amazing footage featured in the programme.
Sun 10 Nov, 8.55pm-Mon 11 Nov, 4am
Tue 12 Nov, 12.45am-Wed 13 Nov, 4am
Fri 15 Nov, 7pm-Sat 16 Nov, 2am
This week's sport highlights
The sporting highlights on Red Button this weekend include MotoGP practice, qualifying and race action from Valencia, a rugby union autumn international clash between Scotland and Japan and Saturday football results with Final Score on some connected TVs. 
 For a full list and times of sport coverage on Red Button see the BBC Sport website.
 Please note times are subject to change. 
 Keep up with all the latest news by following us on Twitter on @BBCRedButton and find out more about BBC Red Button at /redbutton