Hi,  I am the Senior Product Manager for BBC iPlayer on Mobile Apps.
Today we have released an update to the BBC iPlayer Android and iOS apps which brings us in line with responsive web and connected TVs and signals the first step in re-defining the new iPlayer experience on mobiles and tablets.
You might be aware that a few weeks ago we launched a new responsive web version of BBC iPlayer. Dan Taylor, Head of iPlayer, provides an insight into some of these changes in his recent blog post.
Many of the principles Dan outlines apply to Mobile apps; in fact when the team began to think about how to make BBC iPlayer even better we saw it as an opportunity to ensure that each platform was as consistent and familiar as possible. I encourage you to read Dan's posts, or Creative Director Kutlu Canlioglu's post on the redesign, and I will focus on the updated mobile experience.
When you launch the updated app you are presented with a selection of featured programmes that have been chosen by the BBC as well as a group of the most popular programmes. In the new picture lead interface we've included a new feature, collections. These are groups of programmes we have linked together either by series, such as the BBC Three drama In The Flesh, or by theme, such as the Chelsea Flower Show or blues music.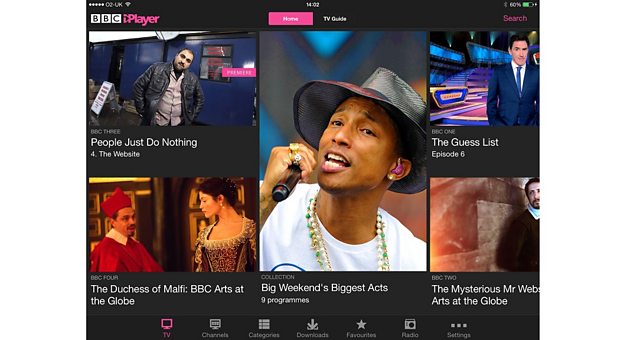 Mobile home screen with a collection
Along with collections the new design has dedicated Category and Channel pages which we believe provides a much better browsing experience than the old app. The branded Channel "pages" also feature live playback and programme information, as detailed in the image below.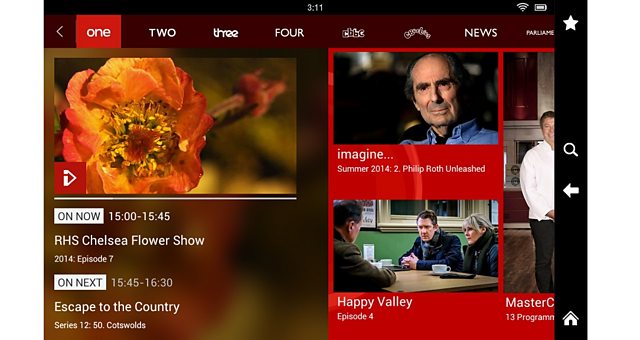 A channel page
Other areas of the app such as Favourites, Downloads and Search remain unchanged for now.
In order to understand why some areas have changed and some have remained the same it is important to provide a little context. The new iPlayer 'journey' on mobile apps started after work began on TV or responsive web. In some respects we were in a more fortunate position; the TV and web versions of BBC iPlayer were last refreshed in 2011 and 2010 respectively and were in need of a major overhaul, whereas on mobile we have been adding updates throughout the last 18 months and the codebase has remained solid. For mobile last year was the year of platform parity as we built the Downloads feature for Android and we made a commitment to develop all new features in parallel on Android and iOS from that point on.
To facilitate this we have completely changed the way we work (which probably requires another blog post entirely!) and combined what were two platform teams into one. Our commitment was also to ensure a rolling delivery of features as opposed to infrequent 'big bang' launches. In other words getting into the habit of regular updates that deliver value to the user. It is this last point which is particularly pertinent for today's update. We could have built a brand new app but this would have gone against our committments for frequent updates. Building software is hard. Building it for mobile apps across two very different platforms is even harder. A completely new re-design of the app would have most likely taken us into 2015 which wasn't a very appealing proposition.
We therefore decided to evolve the existing product, focussing on the areas we thought offered the greatest value. Granted this way of working isn't particularly groundbreaking and in fact most mobile apps follow this process, but taking this approach on the BBC iPlayer app was particularly challenging considering the new user interface had to be consistent with that which was being developed on TV and responsive web but was also quite different from the user interface that already existed.
Once we had decided to take this iterative approach there was much head-scratching as we tried to work out a strategy that took our original new iPlayer designs and merged them with the product that is currently live. For example our new Home, Channel and Category pages were originally designed with a new navigation menu in mind yet we decided to focus on the content first and then navigation at a later date so designs had to be tweaked and refined accordingly. This wasn't the only complex area to address: The way we access our programme metadata was also changing as we were making these improvements so there are areas of the app that access the new metadata service and there are areas that still access the old one.
Careful consideration was given to building a user experience that was consistent across both platforms but might not therefore conform to native Android or iOS design patterns which in turn added technical complexity. Finally we also debated as to what would make the first compelling user-facing release. We originally focussed on the new Category pages (as this was an area of the current app we felt needed the most urgent update) and while we considered this as its own separate release, we actually felt it was a more coherent experience when released alongside the new Channel and Home pages.
In addition to the challenges of evolving the user interface we were also making continuous improvements to the app that was already being used by millions of users. A good example of this is our update in April which enabled video downloads on all Android devices running Ice Cream Sandwich and above (my colleague David Berlin wrote a blog post about this) and also when we added Chromecast support back in March. We've also had to respond to live issues all of which offered a huge amount of value to users but introduced increased complexity to the way we work. There have been times when as many as four different features were being worked on at the same time all hidden behind 'flags' in the code that prevented the end user from seeing them. It was a constant balancing act to ensure we were focussing on the right things at the right times.
Now we have released this update we can focus on other areas of improvement. We want to introduce a new navigation menu that is consistent across both platforms, a quicker journey to improved playback, features such as Live Rewind and continuous play, improved ability to favourite programmes as well as making BBC iPlayer a more personal experience with cross platform playback and better, more relevant recommendations.
I read once that film directors never feel like they have finished the film they are working on; instead they simply have a date when they have to hand it over to the studio. Everything we do can always be refined whether this is a Hollywood blockbuster or a mobile app. Today's update is therefore not necessarily the launch of a new version of BBC iPlayer but rather the first step in a programme of work to continuously improve an already successful product.
I'm very keen to hear your thoughts in regards to the update but also anything else I might have discussed in this post so please leave a comment.
Thanks.
Chris Tangye is Senior Product Manager, Mobile Apps, BBC iPlayer