Hi, I'm a Diversity Specialist Coordinator at BBC Future Media.
On Friday of last week, women in tech were invited to join BBC FM for a "Get In!" open day. This event highlighted opportunities at BBC Future Media for top female tech talent and encouraged honest discussions around bridging the gender gap in technology. We had Web Developers, software engineers, analysts and UX designers in attendance and it was an opportunity to participate in a 'think-tank' and openly discuss how the tech sector can level the playing field, becoming more gender-inclusive and create a culture of equal opportunity.
ThinkTank groups collaborate
It was inspiring to hear directly from women working across the sector about issues they personally face on a day to day, scratching the surface and ask their opinions on how we can inspire our future generations of women into STEM fields. The visibility of female role models and increasing the opportunities for them to networks is essential in the revolution of tech and inclusive ownership over media. BBC Future Media are committed to engaging directly with these networks and communities to impact how the evolving role of women working in technology can be fuelled, impacting change of cutting edge technology and changing the culture of the tech workplace.
Andy Conroy COO of BBC FM kicked off the day, introducing Future Media's drive to be at the forefront of innovative technology and discussing BBC's commitment to diversity. Mark Lomas, Diversity Manager, BBC Employment & People drove home the need for diverse representation at the BBC to ensure the programming and performance of the organisation are inclusive and reflective of licence fee payers.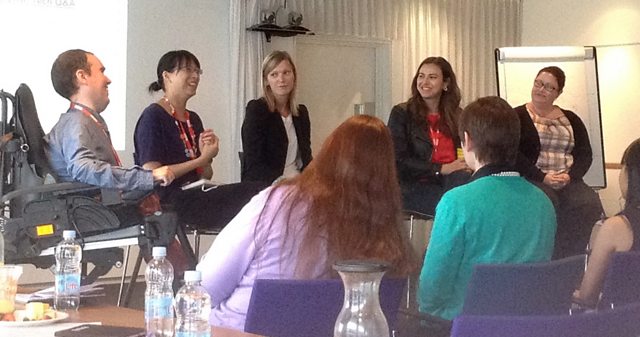 BBC Women in Tech Panel: Kai En Ong, Claire Mitchell, Sofia Angeletou and Tara O'Reilly
Vanessa Vallely from We Are The City co-facilitated the ThinkTank, discussing her own personal journey as a woman in tech, leading roundtable panels exploring topics such as "what are the biggest stereotypes of women in tech?" and "How can emerging technologies help support gender equality?" This 'thinktank' brought forth a wealth of direct information including the importance of flexible working, the paradox of feminine and masculine stereotyping as well as the pressure to play to the internal tech politics of the traditional 'boys club'.
Sonia Bate from Edit Development ran a workshop focusing on the importance of self-belief, personal branding and overcoming implicit and unconscious biases as a woman in tech. Through the looking glass of neuroscience, Sonia reminded us of the roles that 'personal frames of reference' play not only in self perception, but perception of others. The relevance of topics of physiology, communication and self-assurance especially as a woman in technology were discussed with hand on examples and pair work to drive home the theory & practice to maximise personal and professional successes.
The women in tech BBC panel described firsthand the positives of working at BBC including being part of an integral cultural figurehead, the pros of flexible working, the internal transfer and up-skilling opportunities as well as the familial, community environment that is the BBC. A relaxed and open Q&A followed with attendees where they were coaxed to ask the difficult questions for an honest view on internal BBC working life. In full circle, Natasha Adams, HR Director, Strategy & Digital Division, lead a de-brief discussion, calling for feedback on the potential future outreach initiatives for women in-industry and inviting women to register interest in working for the BBC.
It has been said that "If you're the smartest person in the room, you're in the wrong room" and I was definitely in the right room! It was genuinely overwhelming to be in the company of such incredible women.
If you'd like more detail of the diversity projects I am working on, please do leave a comment. You can also follow @BBCFMDiversity on Twitter.
Sarah Desilva is a Diversity Specialist Coordinator at BBC Future Media