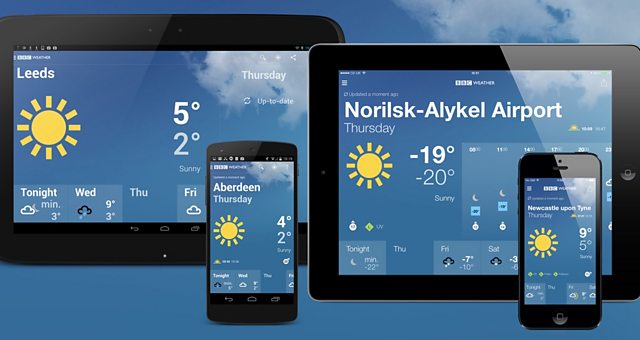 BBC Weather apps on different devices
Another contributing factor has been changing user trends as mobile and tablet traffic continues to rise. December was the first full month where mobiles and tablets represented half the traffic to BBC Weather. This was probably helped in no small part by a whole new bunch of smartphone and tablet devices being unwrapped on Christmas Day. In fact, Christmas week was our largest week-on-week increase since July, with 244,000 downloads.
Obviously another major contributor was the weather itself. I am well aware there have been some very difficult weather conditions up and down the UK since early December. So it's humbling to know that so many users have turned to the BBC app for their weather information.
Naturally, we have continued to listen to your feedback, in order to prioritise a number of improvements to the app. Recent updates include ability to rotate your tablet device to view the app in landscape, as well as releasing a version for Amazon Kindle devices, sharing, and installing links to the Met Office National UK Weather warnings.
So what now? Well, more improvement are to come, most notably 10-day forecasts. The website already shows 10 days, but the apps only five. It has been a tricky challenge to find a scalable design that works in the app on a multitude of different screen sizes, but still makes sense to audiences.
We are also using the lessons learnt on apps to start building a new responsive website for Weather, and will be looking to integrate more localised Met Office Weather warnings onto the apps and site later this year.
As always, we will keep monitoring your feedback as we continue to improve BBC Weather's offering on all platforms.
Mike Burnett is an Executive Product Manager, BBC Weather
BBC Weather app facts
• Weather app downloads so far are roughly equally split between iOS and Android devices
• Peak mobile traffic on Friday mornings from 7am
• Peak tablet traffic on Thursday evenings from 10pm.
• In an average week, a 60/40 split between users on mobiles against tablets.