Dara O Briain's Science Club: Delivering extra content while you watch
I'm Michael Orwell a producer from BBC Knowledge & Learning specialising in science and based in London.

Join the Science Club
Dara O Briain's Science Club was a six-part BBC Two series which began in November 2012 where the big ideas in science were taken apart and viewed from many different angles in an irreverent but penetrating manner.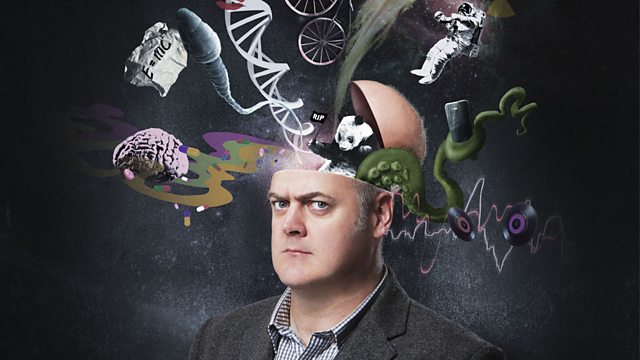 While the number of viewers may not yet rival series like Horizon or Wonders of the Solar System, it has a dedicated, growing group of fans.
The ambitions of the Knowledge & Learning product are less about providing supporting content for programmes and more about providing onward online journeys for a factual topic that might have 'sparked' curiosity in a BBC audience member.
As the product is still in development my team and I had the opportunity to experiment with existing content formats to let curious viewers get a bit extra out of an area or topic which is featured in a BBC programme.
We set up a Twitter account - @bbcscienceclub, alongside live web chats which have been used in Stargazing and Volcano Live.
Finally we commissioned news features around ideas from the episodes to whet the audience's appetite for those big science stories.

Trying something different with Twitter
With @bbcscienceclub we decided to tweet out highly relevant content, closely synchronised to what was happening on-screen.
Obviously other BBC Twitter accounts have taken a 'live tweeting' or second screen approach but we used early versions of the recorded programme to research and in some cases commission highly relevant, synchronised 'micro-content'.
So if you liked an idea on the big screen there would be something extra on your laptop, tablet or phone right there waiting for you, straight away.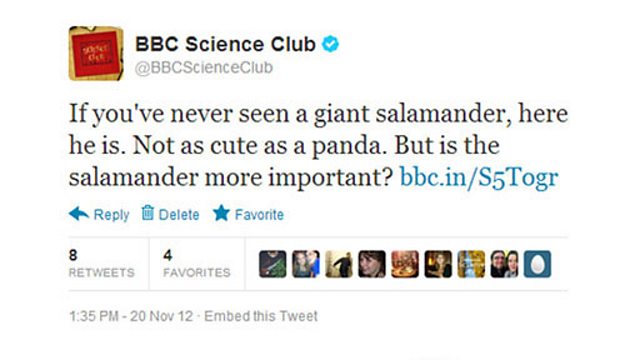 Engaging the audience
Each tweet's success is measured in part by a term called 'engagement' that is calculated by the percentage of followers of an account who reply, 're-tweet' or 'favourite' it.
We aimed to make most of our tweets consumable in the Twitter browser itself so we expected quirky 'micro-facts', famous quotes, backstage photographs and our exclusive 'doodles' to engage well.
But we also found that tweets which linked to deeper content, by which I mean more in-depth content, could perform equally well if tweeted at the right point of the programme.
The following tweet linked to a BBC News Magazine feature about how phantom limb syndrome had been effectively treated with just a mirror.
It was tweeted after an in-programme demonstration of limb confusion caused by a prosthetic arm and a hammer!
This was re-tweeted 150 times and the link clicked on more than 2,400 times. The tweet also contained a surprising fact about the high proportion of amputees who experience the syndrome which people seemed to find interesting.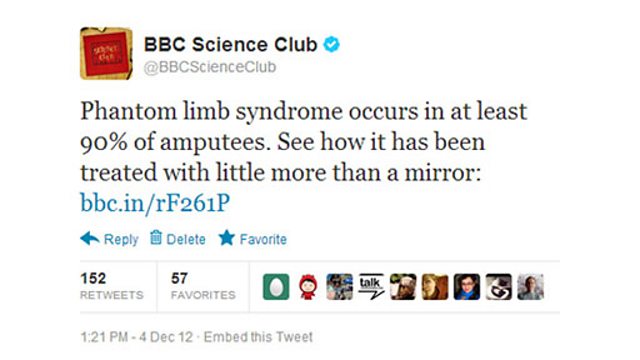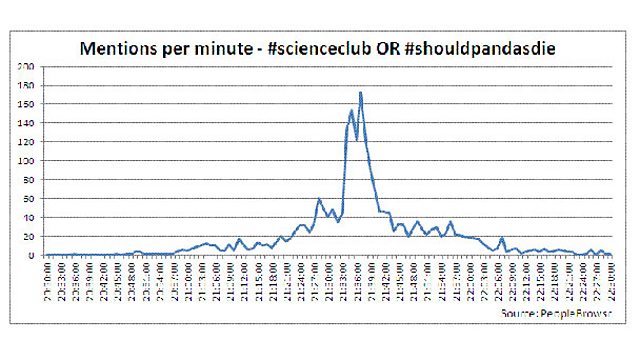 Here you can see the social media analytics showing activity around episode three of Dara O Briain's Science Club which had an extinction theme.
The big peak in activity at 9.35pm was in response to Alok Jha's film about the ethics of 'big species' conservation. We organised an on-screen hashtag to be displayed and tweeted out the question to our twitter followers.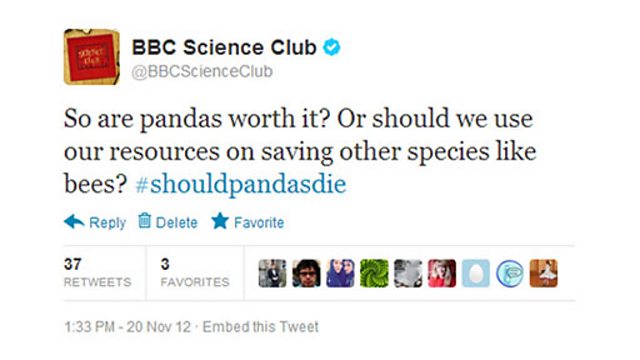 The benefit of taking a discussion like this to Twitter is that it includes people who aren't necessarily watching the show, but it also encourages viewers to start posting their own links and blog posts to support their take on the discussion.
Our programme-inspired 'discussions' trended once (#talktoaliens) and the general hashtag #scienceclub trended several times in the UK showing that the range of topics on offer seemed to get viewers strongly engaging.

Clicking through to deeper content
Over the course of the series links posted in tweets were clicked on 19,297 times often taking viewers into 'deep' content.
Towards the end of the series exclusive web content was very popular with the online clip of Imogen Heap's technologically impressive musical performance visited nearly 1000 times during broadcast.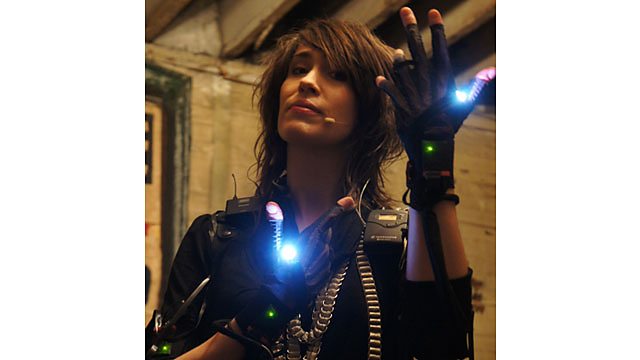 Imogen Heap
Other surprisingly popular tweets resulted in 720 clicks to a scientifically proven motivational playlist and over 1000 clicks to the BBC's seminal SEX ID test, demonstrating the continued appetite for BBC Lab UK style tests and surveys.
This level of engagement with deeper content is remarkable for a programme with a medium sized audience and small but growing number of followers.

Building a following
The BBC Science Club account was only opened on the 1st of November 2012, just four days before the first programme transmitted.
However in under two months we built a following of over 20,000 which is still increasing. I think this is due in part to the engaging nature of the programme but also shows the benefit of a thoughtful and well-resourced social offer.

Chatting to an expert
We also wanted to experiment with using the webchat tool called Cover it Live to post the same scripted content but also to encourage more comments and questions from the viewers.
We recruited some experts to watch the programme as it transmitted, giving their thoughts and answering questions from viewers who were intrigued by the ideas in the programmes.
We had to be careful not to create an activity that distracted too much from the central activity of watching the programme but complemented it.
This approach opened up the question of whether it is better to invite people to 'come to you' or whether you should take the discussion to where the online audience already exists.
Throughout the series we encountered far fewer interactions with the webchats than in Twitter but the webchats provoked some fantastic questions which created excellent content for the rest of the live chat audience.
These chats clearly allowed 'superfans' to have a 'deep-dive' into the themes of the programme and this seems like a valuable part of the experience for factual online content.

What's next?
Both these content platforms provided great, relevant content to curious and interested viewers of Dara O Briain's Science Club.
The audience's high engagement with the Twitter account does suggest that scalable efforts for pre-recorded factual programmes could be very worthwhile and also offer hints at how connected TV / IPTV apps could help deliver extra digital content as you watch the best of BBC Science programming.
Many thanks to Joelle Allen and Jennifer Green for providing statistics and analysis.
Michael Orwell is a producer for BBC Knowledge & Learning.