This week on BBC Red Button, watch coverage of the 2013 Wimbledon Championships and music from Glastonbury, the greatest festival in the world. Rick Stein returns with more culinary delights from India and there's another chance to join in the celebrations of 100 Years of Bollywood.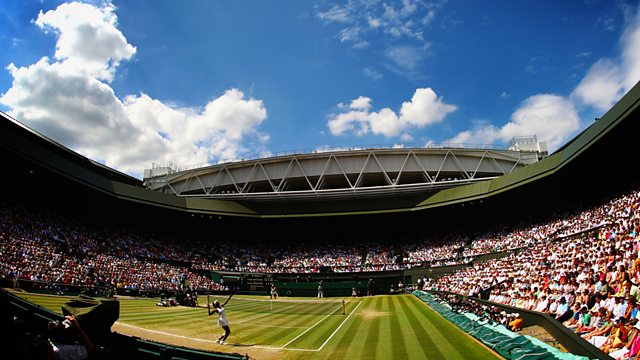 Centre Court
Wimbledon 2013
You can catch all the latest drama at Wimbledon 2013 on the Red Button this week.
Satellite and cable viewers will be able to select from three additional live courts, while viewers on Freeview, BT Vision or YouView can choose between two extra courts alongside the best of the action on BBC One and BBC Two. Just press red on any BBC channel, select Wimbledon 2013 and then choose your court by accessing the menu via the blue button.
And the best of the action will be available in HD on the Red Button HD channel on these services: Freeview HD 303, Virgin Media 994, YouView 303. Virgin TiVo users can access all 10 live courts in HD via the Connected Red Button along with highlights and interviews.
For a full guide to coverage, see
Wimbledon 2013: How to watch on the BBC
.
Other sport highlights this week include the latest from the Confederations Cup in Brazil, as well as F1 and MotoGP coverage. For information on this week's schedule, see the
BBC Sport website
. Please note times are subject to change.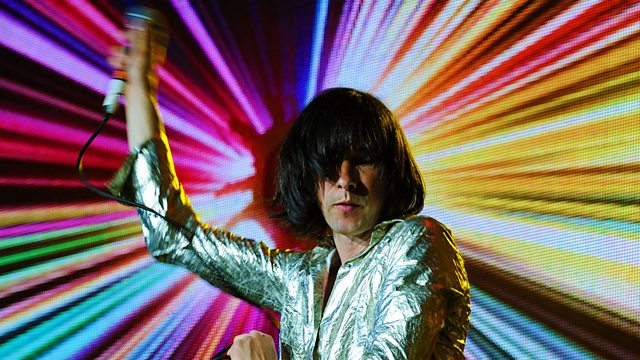 Bobby Gillespie
Glastonbury 2013
The BBC is broadcasting more of the festival than ever before. Music fans will be able to watch and listen to a huge range of performances live and relive their favourite festival moments or ones they've missed. This is the next best thing for everyone who can't make it in person to Worthy Farm. BBC Red Button will bring its audiences even closer to the music they love at Glastonbury.
For a full guide to Glastonbury coverage, please visit
how to watch and listen
.
Available on Freesat/Sky/Virgin Media/Freeview:

Fri 28th June, 9:00pm-2:00am
Sat 29th June, 9:00pm-2:00am
100 Years of Bollywood


Indian cinema's centenary celebrations continue on BBC Asian Network with a special Red Button programme that brings you highlights of 100 Greatest Bollywood Songs, BBC Three's Bollywood spin on Bizet's classic opera Bollywood Carmen and film icons who recently visited the UK including Jackie Shroff, Zeenat Aman and Ranbir Kapoor talking about their contribution to the biggest film industry in the world.
For more information and the full schedule,
click here
.
Available on Freesat/Sky/Virgin Media/Freeview:


Sat 22nd June, 6:00am-7:00am, 3:45pm-7:30pm, 10:00pm-6:00am
Sun 23rd June, 6:00am-6:00pm, 7:00pm-7:55pm, 9:00pm-10:00pm
Mon 24th June, 12:00am-11:30am
Rick Stein's India


Discover a wealth of regional Indian cooking with Rick Stein in Mumbai.  With around 20 million inhabitants it's the most populated city in India – possibly the world – with an abundance of produce and a variety of ethnic influences.  For a chef wanting to pick up new ideas (especially seafood dishes) there's no better place and Rick happened to find himself in Mumbai at the same time as friend and fellow chef Atul Kochhar. Together they visit Mumbai's oldest Mangalorean restaurant, famous for its seafood dishes.
Available on Freesat/Sky/Virgin Media/Freeview:


Sat 22nd June, 11:55am-12:30pm
Mon 24th June, 9:55pm-10:30pm
Horrible Histories Karaoke


Grab your hairbrush, take a trip back in time and sing along with the biggest names in history. From Vikings to Dickens, Joan of Arc to Rosa Parks, rock your socks off to the CBBC Horrible Histories Karaoke!
Available on Freesat/Sky/Virgin Media/Freeview:


Sat 22nd June, 7:00am-11:55am, 12:30pm-2:45pm
Antiques Roadshow play along


Join in with Antiques Roadshow by guessing the valuations via the Red Button play along for the final time this series. You can also play along on a mobile or tablet by downloading the play along app. Don't forget to tweet your scores to #antiquesroadshow.
Available on Sky/Freeview:


Sun 23rd June, 7:55pm-9:00pm