Favourites old and new on the Red Button this week, as we welcome back the Antiques Roadshow play-along quiz on Sunday night, and bring you extensive coverage of England, Scotland and Ireland's matches in the European Hockey Championship. There's also top-notch music and arts from the Reading and Edinburgh festivals, Stereophonics live in concert at the BBC Radio Theatre, and magical larks for kids with Tree Fu Tom.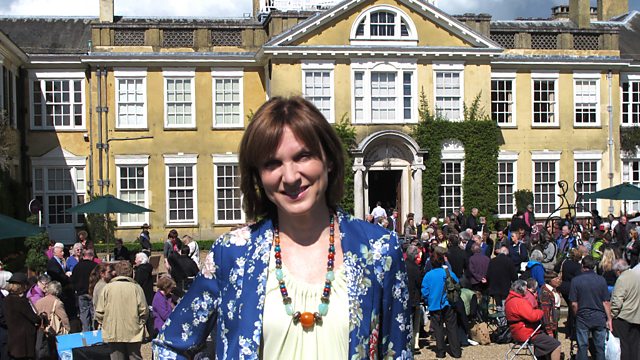 Fiona Bruce
 
Antiques Roadshow
 
A new series of Antiques Roadshow starts on Sunday – and that means the return of the ever-popular Red Button play-along quiz.

Cast your eyes over the items as they appear on screen, and see if you can guess how much the show's experts think they're worth. There's also a new challenge for this year – can you pick out the fake from Fiona Bruce's four suspect items?

Tune in at 8pm on Sunday on BBC One, and play along at home by pressing red or using the show's own play-along app.
 
Available on Sky/Freeview
Sun 18 August, 7.55pm – 9pm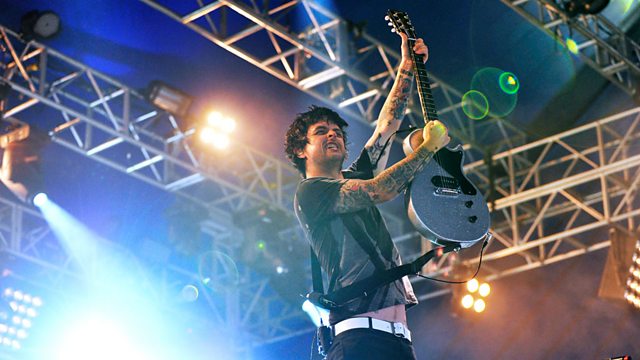 Billie Joe Armstrong of Green Day
Reading Festival
 
Get stuck in to sets from one of Europe's most celebrated rock festivals this Bank Holiday Weekend. Red Button has highlights from artists including A$AP Rocky, Deftones, Alt-J, Phoenix, Alunageorge and Nine Inch Nails from Friday to Sunday, while online and Virgin Tivo viewers can catch live coverage from across the festival, including headline sets by Eminem, Green Day and Biffy Clyro.
 
Available for Freeview/Freesat/Sky/Virgin Media viewers:
 
Fri 23 August, 7.30pm – 1am
Sat 24 August, 6pm – 1am
 
Available for Virgin Tivo viewers:
 
Fri 23 August – Sun 25 August

 
Radio 2 In Concert – Stereophonics
 
Thursday is Stereophonics day on Radio 2, as Kelly Jones and his band perform an exclusive concert at London's BBC Radio Theatre – and you can watch the whole show on Red Button. Press red from 8pm on Thursday to see the gig live, or check the times below to see when you can catch replays later on in the week.
 
Available on all platforms

Thu 22 August, 7.55pm – 9.30pm, 11.30pm – 7am
Fri 23 August, 9am – 12pm, 7pm – 7.30pm
Sat 24 August, 1am – 11.20am

 
Edinburgh 2013
 
Sue Perkins presents a second selection of highlights from the Edinburgh Festival, including Grid Iron's site-specific theatre extravaganza, Leaving Planet Earth. Alastair Sooke meets Mexican artist Gabriel Orozco, and critic Lyn Gardner gives her pick of the best theatre on the Fringe. There's also a look at this year's standout stand-ups.
 
Available on all platforms

Sun 18 August, 9pm – 6am
Mon 19 August, 9pm – 6am
Tue 20 August, 9.30pm – 6am
Wed 21 August, 10pm – 6am

 
This week's sport highlights
 
We're delighted to welcome the European Hockey Championship to Red Button this week. You can watch England, Scotland and Ireland in action in the men's and women's tournaments by pressing red. Check the BBC Sport website to find out when you can catch our coverage.
 
There's also news and action from rugby league's Super League Show on Tuesday and Wednesday, the Football League Show is on Saturday night and Sunday morning in case you miss the original outing, and you can join Jacqui Oatley on Tuesday for the latest WSL highlights from the Women's Football Show.
 
Available on all platforms
 
Note that live sport event times are subject to change. For more information on this week's sport on Red Button, visit the BBC Sport website.

 
Tree Fu Tom
 
Help Tom to save the day by joining in with this exclusive spell-along service. Alex shows you how to create your very own magic belt just like Tom's, made from everyday items you'll find around the house. You can join in and sing along to the Tree Fu Tom theme tune with a special karaoke version that has words on screen. Get into your spell pose and follow Tom and the children on screen to perform Big World Magic.
 
Available on all platforms

Sat 17 August, 6am – 9am, 1pm – 2.30pm, 6pm – 6.30pm  
Mon 19 August, 6am – 3pm, 5pm – 7pm
Tue 20 August, 6am – 1pm, 4.50pm – 5pm
Wed 21 August, 6am – 10.30am, 12.30pm – 6.50pm
Thu 22 August, 6am – 5pm
 

Top of the Lake
 
Press red on Saturday night for an in-depth look behind the scenes of Top of the Lake with co-creator Jane Campion, and discover how the show's creative team brought its complex themes to the screen.
 
Available on all platforms

Sat 17 August, 10.05pm – 1.10am
Don't forget you can follow @BBCRedButton on Twitter.