Music lovers are in for a treat on Red Button this week.  6 Music Live returns for a week-long celebration of live music from the legendary BBC Maida Vale studios in London plus the Pixies' Black Francis talks to Steve Lamacq as well as performing live. 
6 Music Live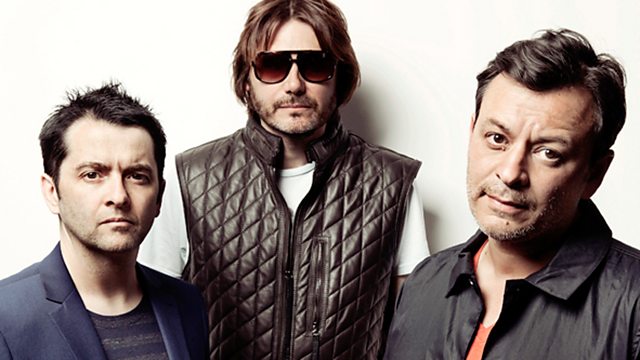 Manic Street Preachers
6 Music Live at Maida Vale is back and features Paul McCartney, Manic Street Preachers and Sigur Ros.
Showcasing the music that the station has championed, enjoyed and nurtured, listeners can find all the action on-air, online and of course on the Red Button.
Mon 14 October, 12pm-1pm, 6:55pm-8:25pm
Tue 15 October, 12am-6am, 6am-1pm, 4pm-9:25pm, 10:30pm until Fri 18 October 3:30am
The Wrong Mans
Get exclusive extra content from new comedy thriller The Wrong Mans on Red Button. Each week town planner Noel Ward will release a new dossier of evidence against his colleague Sam Pinkett. Press red for the Noel Truth or catch up at www.bbc.co.uk/thewrongmans
Sun 13 October, 6:15pm-7:55pm,  10:25pm-11:30pm
Tue 15 October, 9:25pm-10:30pm
Antiques Play Along Quiz
Demonstrate your knowledge of antiques by playing along with Antiques Roadshow. Our valuation game is simple, fun and free to play. Consider each of the objects featured in the programme, select an option before our experts give their valuation and see how many you get right.
The play along is not available on Virgin TiVo but remember you can also download the BBC's free mobile play along app.
Available on Sky and Freeview
Sun 13 October, 7:55pm-9:00pm
6 Music: Pixies in concert
Legendary rockers, Pixies, talk about their first new music in 20 years and play at the BBC's Maida Vale Studios, introduced by Steve Lamacq.
Sat 12 October, 9:05am-2:35pm
Crimewatch: Wanted Faces
Crimewatch needs your help to track down wanted faces. Your first chance to view and report people wanted by police before the main Crimewatch programme. Will you recognise anyone?
Mon 14 October, 8:25pm-12:00am
Sport Highlights
Sports fans can get all the action from the qualifying round of the Malaysian MotoGP and watch a tribute to the legendary Murray Walker as the Formula commentator celebrates his 90th birthday.
For a full list and times of sport coverage on Red Button see the BBC Sport website. Please note times are subject to change.
Don't forget, you can get more information on BBC Red Button services here and you can keep up with all the latest news by following us on Twitter @BBCRedButton.