Watch a film about the BBC Now pilot

The BBC publishes and broadcasts thousands of pieces of content a day both online and across our stations and channels. BBC Now gives us a new way to share more of this content but in a digestible way.
We know how busy people are and that we all expect the latest most relevant information to be there for us almost instantly.
We have therefore created a time based 'fast lane' of content on the right hand side of the BBC Homepage. This tells people what's happening right now and brings out the personality of our brands.
It not only helps people discover new content they might have otherwise missed, it also uncovers the conversations around that content which happen every day.
A quick look at BBC Now gives you the top four trending or most popular terms. This updates dynamically as soon as another item is published which makes it even easier to follow a news story just as it's breaking or a big event like Glastonbury.
I wanted people to be able to find out what's happening in the BBC and the world right now without having to move around different areas of the BBC website. You can get your Travel News, see which song was last played on 6 music, read headlines from journalists overseas, see what's about to start on BBC One and of course get the latest Sports results all in one place.
The stream is made up of a mixture of recently published content and official BBC Twitter accounts including BBC News and Sports journalists, Radio shows and DJ's, popular TV programmes such as Have I Got News For You, Daily Politics or Strictly Come Dancing and Radio 1's Newsbeat. These accounts are all used as additional ways to communicate and have conversations directly with audiences.
I know people feel passionately about the BBC brands so it was important that every feed includes the appropriate logo. The Twitter Feeds also include the twitter handle for example @BBCFood, we then display the whole tweet.
The internally published content, i.e. content that sits on bbc.co.uk, is slightly different.
We make sure the brand that the content lives under is still prominent then, for example, for music we display the artwork of the song which is currently playing, and there is a prompt to listen live.
BBC iPlayer feeds work in a similar way: we show an image from the show, a brief description and a prompt to watch now in iPlayer.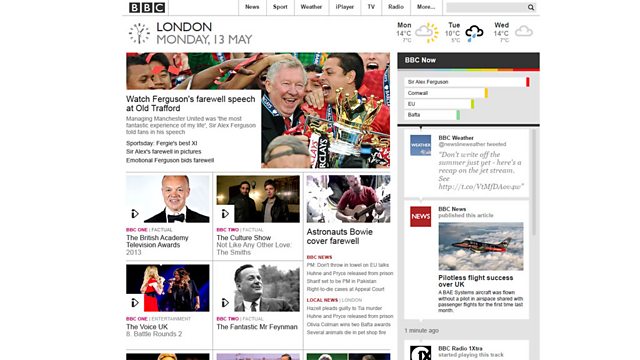 Why do a prototype?
We do prototypes to test ideas quickly. It also gives us the opportunity to use a range of technology which means we can build as much as possible in the time available, which in this case was just four weeks. So unlike our current Homepage this prototype won't work on older browsers or devices.
David Wynne, from Red Badger, shares some insight on how they built the prototype
"By combining a variety of data sources and data strategies we created a unified stream of real-time BBC data which is delivered to each user's browser via Server-sent Events. Using our custom BBC Brand database we ensure each update is first associated to a configured brand so by the time it reaches a users browser, the update has been contextualized to a common brand. The stream of data is also passed through our trend analysis module, which uses a natural language query processor to extract common terms and aggregate trends occurring over the last six hours across the BBC.
Node.js is at the core of BBC Now, being suited as it is to real-time web applications. We used MongoDB to power the BBC Brand database and Redis to facilitate inter-application pub/sub. The trend analysis module uses Python and the NLTK (Natural Language Toolkit). We used Vagrant to provide virtualized development environments, provisioned by Chef. We also used Chef to provision production environments."

What next?
I've got several user testing sessions booked in where we will test the prototype with users across the country.
As this is a prototype this is just the start. My vision is that by offering different levels of manual and automatic personalisation each person will get live information on the things that they are most interesting in, be it Wimbledon, Grimmy, MasterChef or Northern Ireland News. This could be an optional piece of functionality, allowing people to chose how they want to see and receive their content from the BBC.
I would love you to give me your feedback by leaving a comment below or tweeting using the hash tag #bbcnow.
Eleni Sharp is the product manager, BBC Homepage.