Since my last post I've become Chief Technical Architect - Archives & Digital Public Space, at the BBC.
For the past few months I've been working with a team of developers and data architects to build a new system that will bring together linked open data catalogues from a wide range of online educational resources, improving access for teaching, learning and research.
Called Acropolis, it is the main technical component of an initiative called the Research and Education Space (RES) which the BBC is working on in partnership with Jisc and the British Universities Film and Video Council. It will bring together material relevant to education and research at all levels, from primary schools to post-doctoral research, indexing documents, images, sound and video from collections of material that are freely available or licensed for use in education.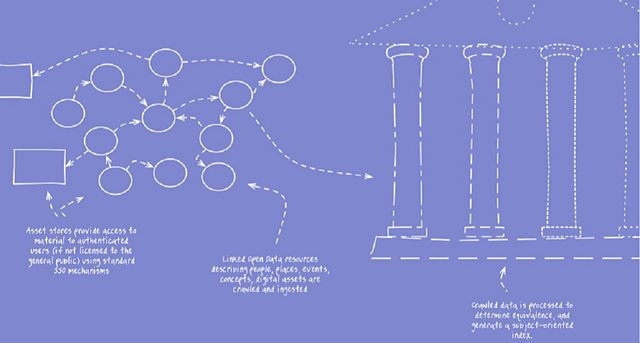 The Acropolis platform will collect and index linked data describing a range of assets
RES provides an open, accessible catalogue of online educational resources that can be used in teaching, either directly within classroom materials and on electronic whiteboards or in materials developed by educational publishers and software providers.
But having great materials and a comprehensive catalogue is only the start: the real value of RES will come when there are products and tools built on top of the platform that can be used by teachers, students, researchers and learners of all ages to enhance activity in the classroom, laboratory and library.
We want to be led by developer's expertise in how the data and the digital media can be presented, creating online experiences that will inspire learners, teachers and researchers by using applications built on the RES platform, and we want to encourage developers to build new products and services.
So I'm pleased to tell you that today we're announcing a BBC Connected Studio focused on RES, inviting developers to find out more about our ambitions and pitch ideas for products that can be built on top of the RES platform. We have issued a Creative Brief that gives more detail about what we're looking for, and I'd encourage you to read this and register for our Connected Studio Briefing, which is happening at Shoreditch Village Hall at 5.30pm on September 4th and will explain the process in detail—although if you can't make it, all of the information will be posted online on September 5th.
The main event—a Development Studio—happens on September 29th and 30th, also at Shoreditch Village Hall. During the two days you'll be given the opportunity to develop an idea and pitch it to a team of judges, and we'll choose which of the ideas will be funded to take forward as audience-facing pilots. To be considered for a place at the Development Studio, you'll need to register as a supplier to the BBC on our portal and complete a Pre-Qualification Questionnaire (PQQ) which will be published towards the end of August.
In the past a number of products have made it through the Connected Studio process, including BBC Weather Bot and Referend-erm?, and I hope that we'll find some RES-shaped ideas that can inspire others to build on top of our new platform as it rolls out during 2015.
The RES partners all believe that there's unlocked potential for online material to be used in teaching and research, and I'm looking forward seeing some great ideas for how teaching, research and learning can benefit from improved access to online resources.
Mo McRoberts is Chief Technical Architect, Archive and Digital Public Space, BBC