Hi I'm Andy Pipes, executive product manager for Knowledge & Learning (K&L) which looks after the BBC Food website.
Today we are announcing some changes to how you can bookmark recipes on BBC Food. This blog post outlines the changes and the reasons behind them.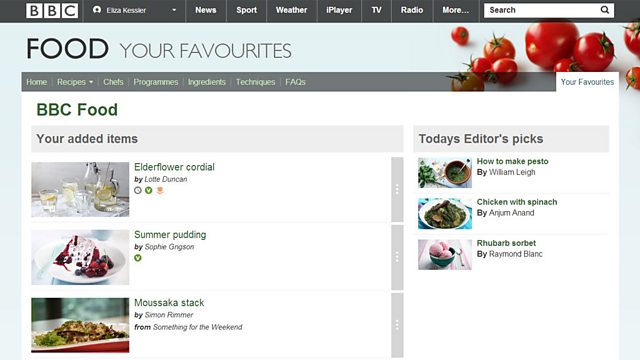 Your Favourites on BBC Food

Goodbye Binder, Hello Favourites
In the past the BBC's websites have had different ways for the audience to share, collect and annotate BBC content. To ensure audiences have a consistent experience we've begun to standardise the way that we describe these actions.
You might have noticed, for instance, that the button to allow users to share pages on Facebook, Twitter and Google is now consistent on News, Sport, BBC iPlayer, Food and most other BBC websites. You can read about this in my colleague Mark Channon's blog post.
Radio iPlayer already allow users to save their favourite programmes using the Add to Favourites button when a list of episodes or series is displayed. As of today, BBC Food will share this function.
The current Recipe Binder will become Your Favourites. Saving a recipe to Your Favourites is as simple as clicking the green Add to Favourites button that appears next to the recipe title.
Removing an item from your favourites is just as easy. Follow the link to Your Favourites to see a list of your saved recipes. Click on the grey vertical bar to remove a favourite from your list when on the Your Favourites area.
For anyone with recipes saved on their current Binder, we will move your saved recipes over to your Favourites list. Those recipes will be stored against your BBC iD, which means that you can still take your Favourites with you on any device or screen you happen to be logged in to.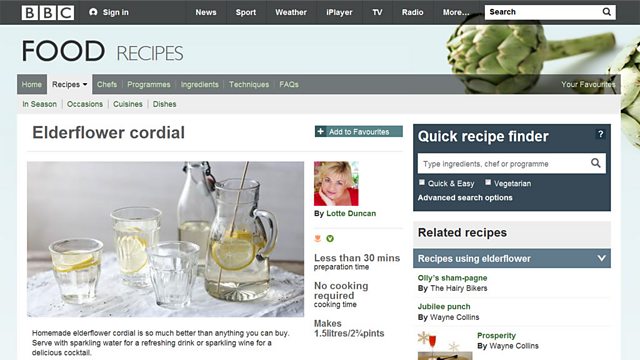 The Add to Favourites button

What happened to filters, notes and search?
The old Binder service included a filter and search function which allowed users with many saved recipes to easily pull out the one they wanted to access. Unfortunately this feature is not yet part of the new Favourites area.
This was a difficult decision based on the fact that just 0.07% of visitors to the Food website used this search facility in the Binder. The seldom-used feature, Notes, is also being closed as we move on to the new platform. The small number of people who used this service have been advised to copy their Notes before the upgrade to BBC Favourites to avoid disappointment.
If you have questions or comments about the updates, please ask them in the section below and we will do our best to answer any queries.
Andrew Pipes is the executive product manager for BBC Knowledge & Learning.