The Internet blog was set up in 2007.
Its aim has always been simple: to provide a place where people from the BBC's technical and editorial teams who work in BBC Future Media and BBC Online can talk about their work and get feedback from readers.
Over the years the subjects covered by this blog have changed a great deal. Andy Quested was a regular contributor about BBC HD at one point, at another Anthony Rose's posts about the development of BBC iPlayer always caused great excitement and in 2011 the latest version of the BBC Home page was covered in detail.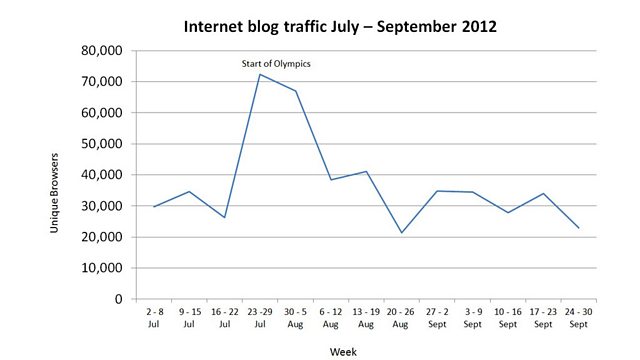 Traffic to the Internet blog between July and September of 2012 – does publishing graphs like this one aid transparency?

From time to time myself and the content producer discuss with colleagues the performance and editorial direction of the blog. As Eliza explained the blog recently migrated to a new platform with a new look and feel. So this feels like a good time to pause and think about what we're doing and what we could do.
As you can see from the above graph of traffic the blog did well in the summer of 2012, driven by the posts that we published about the Olympic Games. In fact the Olympic spike for the blog were the best numbers the blog has ever achieved to my memory.
So some people are reading what is published.
But I thought it might be useful to consider what we do on the blog in a different, more philosophical way.
'Transparency' is a word I've been hearing a lot recently.
The BBC Trust has a statement on its website saying:
"As a public body the BBC has a responsibility to operate as transparently as possible. The Trust takes this duty seriously and has tasked the BBC with setting new standards in openness and transparency."
Transparency has lots of different meanings in different contexts. Wikipedia has various definitions.
So to stimulate my thinking I'd like to ask you, the readers of the blog some questions:
What does 'transparency' mean to you?
Does the Internet blog help BBC Online be more 'transparent'?
Is there any new content or features that you feel would increase 'transparency'?
Please leave a comment and I will respond. Try and focus your comments on the Internet blog rather than the BBC as a whole as this will make for a better conversation and as always remember the house rules.
Nick Reynolds is public accountability executive, BBC Online.