Hi I'm Jonathan Austin, product manager for BBC's elections coverage on bbc.co.uk/news.
The BBC is investing in its online political coverage to meet the challenges of the next four years. We took the first step on this journey in May, with this year's local elections service called Vote 2013.
We overhauled our technology, introduced responsive design and, for the first time, published linked data concepts in News stories. Together this provides the core set of new features that will change how BBC News covers politics online.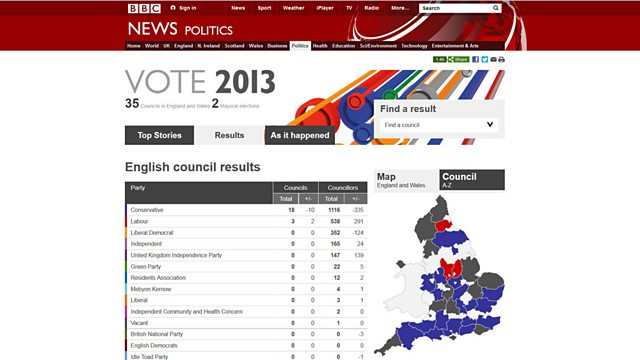 Results on Vote 2013

The BBC's charter agreement specifically mandates us to promote understanding of the UK political system and the next four years will bring unprecedented political activity.
There will be elections in Europe, the UK, Northern Ireland, Scotland and Wales. Scotland will decide on independence and the UK could also vote on EU membership.
In a period of potentially massive change the BBC's role is more important than ever, which is why we are laying the foundations now, starting with our coverage of the local elections.
At first glance the results service looks similar to previous elections. But under the bonnet, everything was different.
Our results data system was completely overhauled. Hosted on the cloud it was quicker, more reliable, able to handle more data and could publish to multiple platforms.
Vote 2013 was the BBC's first responsive UK election result service. Just one election map and result table served all mobile, tablet and desktop users. Tom Maslen (technical lead, visual journalism) discusses the details in his Responsive News blog.
For the first time we embedded semantic linked data on BBC News. Each result page contains RDF metadata pinpointing the location of the result. Jeremy Tarling (data architect) discusses this in his blog post.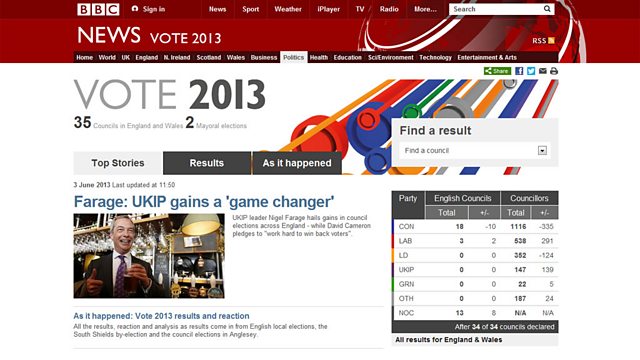 News coverage of the elections on Vote 2013

Looking to the future, our new results system will allow us to publish yet more data, exposing the behind the scenes buzz of the BBC election war room that you see on TV. We will also push responsive design further to develop visualisations even better suited to mobile viewing.
The application of Linked data in News is perhaps the most important innovation.
Politics today is complicated. The challenge is to create an online service that unpicks this complexity and elegantly displays the facts to voters wherever they may be.
Linked data will help us do that by enabling us to bring content together into what we are calling connected stories.
It builds directly on the work the BBC did during the Olympics. You'll hear much more about that from our team in the months to come. Vote 2013 was the first step on this journey.
Jonathan Austin is product manager for Vote 2013.