Welcome to the new year!
And what better way to ring in 2014 than with one of Britain's great sporting traditions, as the BDO's finest take to the famous Lakeside stage for the World Professional Darts Championship. We've also got a sneak peek at some of the new faces that could shape music over the next 12 months, an exciting journey into outer space, a chance to see some of Team GB's Winter Olympic medal hopes in action and a look behind the scenes at one of CBBC's biggest shows. Read on to find out more…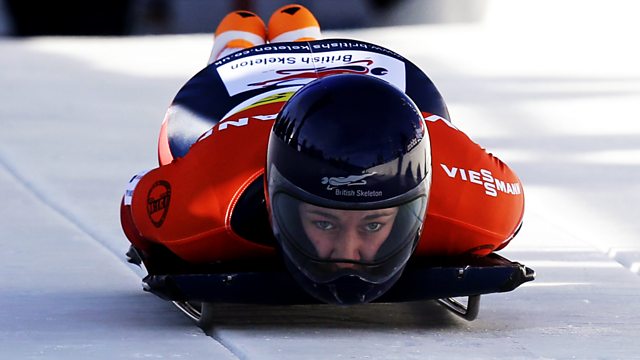 Team GB's Elizabeth Yarnold
Mission Control
You don't need to leave the classroom to be part of Stargazing LIVE 2014. Join us for Mission Control, a live interactive programme from the W5 Science Centre in Belfast where you can watch studio experiments and demos, and help us guide the Stargazing spacecraft through high levels of radiation, cosmic rays, asteroid belts, solar winds and flares to a safe orbit around the sun.
Presenter Barra Best will be joined by our resident experts Ryan Milligan (NASA/Queens University) and Patrick Harkness (University of Glasgow).
You can send in your questions now or during the live broadcast by emailing learningni@bbc.co.uk or tweet them to the team @bbcnireland using hashtag #bbcmc.
Wed 8 January, 1.40pm-2.25pm
Antiques Roadshow Play Along
Demonstrate your knowledge of antiques by playing along with Antiques Roadshow. The valuation game is simple, fun and free to play. Consider each of the objects featured in the programme, select an option before our experts give their valuation and see how many you get right.
The play along is not available on Virgin TiVo but remember you can also download the BBC's free mobile play along app.
Sun 5 Jan, 7.25pm-8.30pm
Sound of 2014
Annie Mac presents the 15 most exciting new music acts on the BBC Sound of 2014 list: Sam Smith, Chance The Rapper, MNEK, Jungle, Royal Blood, BANKS, Sampha, FKA twigs, Ella Eyre, Kelela, George Ezra, Luke Sital-Singh, Nick Mulvey, Chlöe Howl and Say Lou Lou.
Sat 4 Jan, 11pm-7am
Sun 5 Jan, 11pm-6pm
Mon 6 Jan, 11pm-6pm
Tue 7 Jan, 11pm-1.40pm
Wed 8 Jan, 2.25pm-5.30pm, 11pm-5.30pm
Thu 9 Jan, 11pm-5.30pm
Fri 10 Jan, 11pm-10.30am
Dumping Ground Extra
Dumping Ground Extra is jam-packed with a whole host of exclusive goodies from CBBC's hit drama. Press red to join Katie and Dodge for some behind-the-scenes exclusives. Find out what life is like on set with the cast, get the lowdown on some new characters and check out a sneak peek from the first episode of the new series.
Sat 4 Jan, 7am-2.30pm, 5.10pm-6pm
Sun 5 Jan, 7am-5.40pm, 6.45pm-7.25pm
Sport highlights this week
The sporting year gets off to a flying start on Red Button, as Team GB's Elizabeth Yarnold and Shelley Rudman gear up for the Winter Olympics in Skeleton World Cup action from Winterberg in Germany.
Back on home soil, you can catch all the action from the BDO World Darts at the legendary Lakeside, with live matches on the Red Button every night this week.
And on Saturday afternoon Jason Mohammad and the Final Score team bring you all the goals from the third round of the FA Cup.
For a full list and times of sport coverage on the Red Button see the BBC Sport website
Please note times are subject to change. 
Keep up with all the latest news by following us on Twitter @BBCRedButton