Hi time for another round up of news stories about BBC Online from the last two weeks.
The release of the BBC Weather app on Android and iOS gained a lot of attention. Senior product manager James Metcalfe blogged:
The iOS app has been created to ensure the best standards and guidelines have been followed so all interactions menus and settings should be very familiar to iOS users, such as a left navigation menu with search and edit functionality. The major difference for Android is the use of the action bar for search and the ability to offer an interactive home screen widget, which we are pleased to include in this first version. We added some fun stuff too like bumping two phones together to share your favorite locations over Near Field Communication (NFC).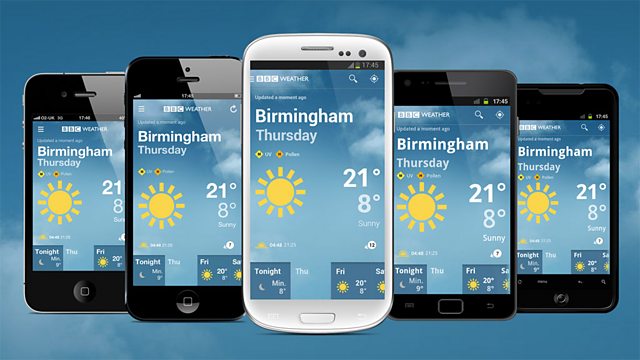 The BBC Weather app on different screens
Phones Review praised the new app:
It has a good clear design and features such as location search where you can store your favourites, or alternatively it can use your current location.
While Digital Trends commented:

With so many weather apps already available to smartphone users, the BBC will be hoping its high profile will help ensure its offering is a success. It certainly has some pretty stiff competition, with well-regarded alternatives like this one and this one already proving popular with users.
An article in the Sunday Express on the child protection safeguards in place for BBC iPlayer caused controversy this week :
Technology has made a nonsense of the 9pm watershed with evidence growing that youngsters are using the BBC's internet iPlayer service to watch scenes of appalling violence against women in popular dramas such as The Fall and Ripper Street.
The story was picked up by the Daily Mail, which reported:

At the moment people calling up programmes on the service only need to tick a box confirming they are over 16 to watch adult material. The BBC does offer a parental lock but many households do not use this. Even young users of the service admit the 'tick box' method is fundamentally flawed in stopping youngsters watching adult material.
The Mail quoted a BBC spokesperson: "BBC iPlayer has controls in place to safeguard children from viewing and listening to guidance-labelled programming."
You can read more about the BBC iPlayer Parental Guidance Lock on the iPlayer help pages.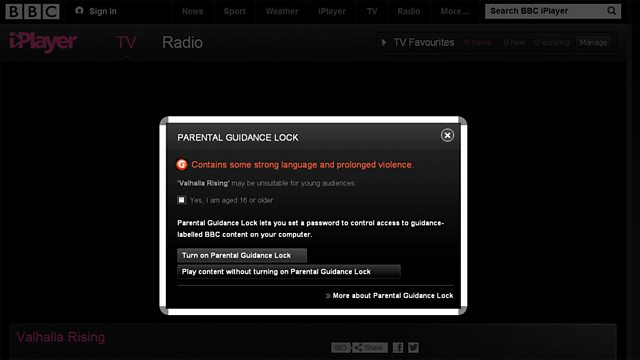 BBC iPlayer Parental Guidance lock

Barb, who report on the TV audience numbers for broadcasters such as the BBC has announced that they will also start reporting on Online viewing figures by the end of 2013. As reported by The Guardian:
Justin Sampson, chief executive of Barb, described the move as "pivotal". "Our initial focus is on reporting the extent to which IP [internet protocol] content is being downloaded or streamed. This is a significant step forward in our ambition to deliver cross-platform measurement of content.
"For the first time we will have a gold standard report into viewing to TV player services such as 4oD, BBC iPlayer, Demand 5, ITV Player and Sky Go," Barb said.
TechCrunch reported on a partnership between BBC and Storify, a service that allows users to create timelines using social media interactions. They have created a VIP service designed for "media organizations, publishers or anyone wanting to deeply integrate social curation and storytelling into their site.":
One of the first companies to use the VIP service is the BBC, in what Storify describes as "one of our first formal partnerships with a media organization." BBC developers have built a custom Storify integration for the BBC site
You can read more about how the BBC uses Storify for Live blogging on Jessica's post or check out our own Live Blogs.
The BBC has released its iPlayer performance pack for May. Digital Spy reported a record month for iPlayer Radio with 76 million programme requests.
The BBC announced its coverage of Wimbledon for this year will be "the most comprehensive digital coverage of Wimbledon ever this year, building on the success of the London 2012 Olympics. Audiences can follow an unprecedented amount of action, wherever and whenever they want to, with up to 10 live streams and on-demand content available across four screens - PCs, tablets, mobiles and connected TVs. "
And finally, the closure of the binder feature on BBC Food caused complaints. Andrew Pipes blog post has 152 comments to date.
What a retrograde step! The binder worked perfectly; why change it? The new favourites don't even work properly; why not complete the development before launching it? Don't change things if you are not making them better.

Andrew responded to audience comments:
We are releasing a bug fix this week that may be causing this issue for some. Basically, when some users try to sign in to their BBC ID, 'ssl' is prepended to the BBC Food website URLs. Try replacing 'ssl' with 'www' manually, and re-adding the recipe to your Favourites. If that works, then the fix that we will be releasing this week should solve your problems. If it still persists, then more details on the operating systems and browsers will help us narrow down the causes.
Thanks!
Eliza Kessler is the content producer on the Internet blog.