This week the BBC Red Button is packed with music, magic and mystery, from special content for the Doctor Who 50th Anniversary and a BBC Children in Need Rocks Encore to an exclusive children's offering with CBBC Extra Behind the Scenes.
Doctor Who 50th Anniversary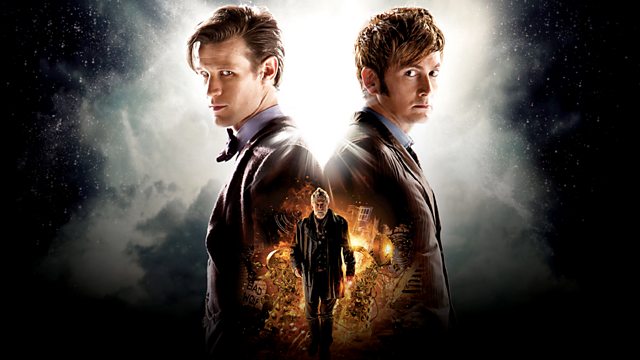 Day of the Doctor
Be a part of the Doctor Who 50th anniversary extravaganza and experience exclusive content on the Red Button. Coverage includes a special mini episode of Doctor Who written by Steven Moffat and music from the Doctor Who Prom.
Doctor Who Prom
Thu 21 Nov, 8:10pm-10:00pm
The Night of the Doctor
Sat 16 Nov, 7.30pm-9.55pm, 10.30pm-11.45pm
Sun 17 Nov, 6pm-9.55pm
Mon 18 Nov, 7pm-10.30pm
Tue 19 Nov, 7.30pm-6am
Wed 20 Nov, 6am-11.15am, 7.30pm-6am
Thurs 21 Nov, 6am-7.00am, 5.30pm-8.10pm, 8.10pm-10pm, 10pm-6am
Fri 22 Nov, 6am-7am, 7.30pm-6am
Sat 23 Nov, 6am-2.30pm, 6.00pm-7.45pm, 7.45pm-9.05pm, 9.05pm-12.30am
BBC Children in Need Rocks 2013 – Encore
Watch Gary Barlow's star-studded concert with Children in Need Rocks Encore, featuring a galaxy of music stars including Robbie Williams, Dizzee Rascal, Ellie Goulding, Rizzle Kicks and Barry Manilow. Red Button viewers can also enjoy a round-up of the best performances, as well as exclusive bonus tracks.
Sat 16 Nov, 6am-7am
CBBC Extra Behind the Scenes Special
CBBC Extra goes behind the scenes on the biggest CBBC programmes this autumn to bring you some exclusive access. Dodge makes a special appearance on Junior Bake Off and causes Mary Berry and James Martin all sorts of trouble, Katie takes a look at what life is like on location for the Hero Squad cadets and Chris visits the set of Wizards vs Aliens. For more from the CBBC office just press red.
Sat 16 Nov, 7am-7pm
Sun 17 Nov, 7am-12pm
Mon 18 Nov, 7am-11am, 3pm-7pm
Tue 19 Nov, 7am-11am, 1pm-7.30pm
Wed 20 Nov, 11.15am-7.30pm
Thurs 21Nov, 7am-5.30pm
Fri 22 Nov, 7am-11.50am, 1.35pm-7.30pm
Countdown to the Rains
Join Kate Humble and Simon King from their oasis camp for highlights of Africa 2013: Countdown to the Rains. The duo will answer viewers' questions and talk to experts about the impact of the drought, discovering which animals thrive and which struggle to survive. Kate also learns about the camera techniques used to capture the amazing footage featured in the programme.
Sun 17 Nov, 9.55pm-12.25am
Tue 19 Nov, 1.45am-4am
Details correct at the time of publication
This week's sport highlights
There's a selection of action-packed sports on the Red Button this weekend with Rugby League World Cup quarter final build-up and coverage from the USA F1 Grand Prix. For a full list and times of sport coverage on Red Button see the BBC Sport website.
Please note times are subject to change. 
Keep up with all the latest news by following us on Twitter 
@BBCRedButton