The festival season continues here on the Red Button with Edinburgh taking its turn in the limelight. CBeebies ramps up its summer holiday offerings with Big Fun Time and Tree Fu Tom to keep the little ones occupied and there is plenty of action from the Athletics World Championship throughout the week.
Keep up with all the latest news by following us on Twitter @BBCRedButton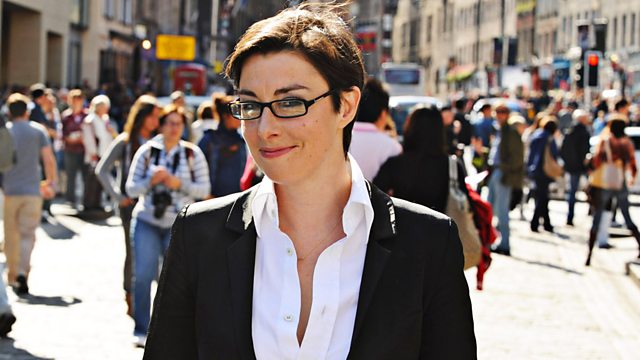 Sue Perkins at Edinburgh
Edinburgh 2013
Sue Perkins presents highlights from The Edinburgh Festival including an interview with and exhibition by artist Peter Doig whose work has sold for a record-breaking $11.3 million. Legendary New York theatre company The Wooster Group present their take on Hamlet, with the ghostly presence of Richard Burton. There's an exclusive film of Scottish Ballet's Dance Odysseys and a selection of the best comedy from the Fringe this year.
Available on all platforms
Sun 11 August, 8.55pm – 10pm
Mon 12 August, 1.35am – 6am, 11.30pm – 6am
Wed 14 August, 7pm – 6am
Thu 15 August, 10.25pm – 6am
Friday 16 10.25pm – 6am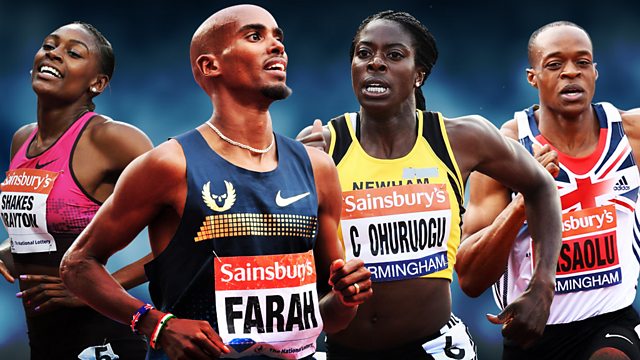 Perri Shakes-Drayton, Mo Farah, Christine Ohuruogu and James Dasaolu
This weekend's sport highlights
Watch the best of the Athletics World Championships with highlights on Saturday. You can catch up with what you've missed daily with replays of evening sessions throughout the week.
There's news and action from rugby league's Super League Show and the Football League Show is on Saturday night and Sunday morning incase you miss the original outing. 
Available on all platforms
Note that live sport event times are subject to change. For more information on this week's sport on Red Button, visit the BBC Sport website. 
Big Fun Time
Press red this summer for Big Fun Time! Watch Alex as he goes on an adventure with Jem and the naughty Swashbuckle pirates aboard the Scarlet Squid, join in with a special Nina and the Neurons experiment and sing along to the Big Fun Time song.
Available on all platforms

Sat 10 August, 6am – 6pm
Sun 11 August, 12pm – 7pm
Mon 12 August, 6am – 11am, 12pm – 1pm, 3pm – 7.30pm
Tue 13 August, 6am – 2.30pm, 4pm – 6.45pm
Wed 14 August, 6am – 7pm
Thu 15 August, 6am – 7pm
Fri 16 August, 6am – 12pm, 1pm – 7pm
Top of the Lake
Go behind the scenes with Top of the Lake creator Jane Campion. In this personal and insightful exploration, discover how against all odds, the creative spirit can sing. Discover the themes at the heart of the Top of the Lake story and how they compare to artistic processes in filmmaking elsewhere.
Available on all platforms
Sat 10 August, 10.05pm – 12:53am
Sun 17 August, 10.05pm – 1.10am 
Live Lounge 
Radio 1's Live Lounge TV brings you the very best in stripped back live music performances from the world-famous Live Lounge. This month Alice Levine has Robin Thicke, Queens of the Stone Age, Vampire Weekend, Crystal Fighters and Nina Nesbitt performing their own songs and some truly incredible cover versions.
Available on all platforms
Sun 11 August, 7.30pm – 8.55pm 
Tree Fu Tom 
Help Tom to save the day by joining in with this exclusive spell-along service. Alex shows you how to create your very own magic belt just like Tom's, made from everyday items you'll find around the house. You can join in and sing along to the Tree Fu Tom theme tune with a special karaoke version that has words on screen. Get into your spell pose and follow Tom and the children on screen to perform Big World Magic.
Available on all platforms
Sat 17 August, 6am – 9am, 1pm – 2.30pm, 6pm – 6.30pm