One of the themes that James Harding outlined in his vision for BBC News two weeks ago was digital transformation. We're delivering on a roadmap of new consumer products, new tools for journalists and completely new ways of using data in our work. We want to extend the weekly global reach of BBC News to 500M users worldwide, across radio, TV and Online.
Online, we're globally reaching more people than ever before – we now see 145 million visitors a month, and in the last month we've also seen our highest ever weekly reach of 57 million visitors.
Our new consumer products are going to better surface the full coverage of News that the BBC produces across TV, Radio and Online, and we'll surface much more third party and social content alongside our own journalism. In order to provide a universal service to all, a critical element of our product strategy is to ensure that BBC News is available responsively across as many devices as we can achieve, as cost effectively as possible.
A priority project is to complete the roll out of this new responsive web version of BBC News, both in the UK and for the World Service in our supported languages. It's not a simple undertaking as we publish original news in 27 different languages for the World Service, as well as English, Welsh and Scottish Gaelic in the UK. We're one of only a handful of organisations world wide who do this. You can see a full list of the languages here.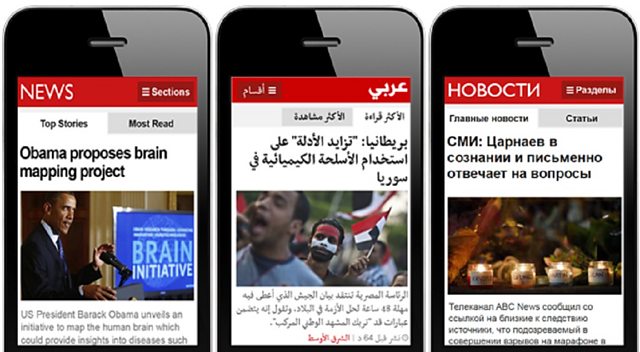 BBC News content in different languages on mobile screens
I'm delighted to have reached the half-way point of the project – we are now live with responsive mobile solutions in 15 of the 30 languages that we support. Momentum is building fast in the team and the aim is to complete the roll out in the first half of 2014.
At the same time as rolling out new Language versions of the sites, we're adding new features to the responsive solution. At present we've deployed enough functionality that supports a great experience on mobile devices, but we have more functionality, improved navigation, localisation and promotional modules to complete before the solution can become the default experience for all users on desktop computers.
So at the moment a user arriving on BBC News on a PC, Mac or Tablet will default to the existing static News website. You can switch to the responsive solution by clicking on the "mobile version" link at the bottom of the page. This week you can see for the first time that we have released a responsive navigation bar to the site. Once this is live we will start routing all users on tablet to the responsive solution.
As with all our functionality we release iteratively and regularly, so you will see the responsive site design evolve gradually over time rather than in a single big release.
What have we learnt?
Two of our development leads, John Clevely and Tom Maslen have written at length about the details of our responsive development approach here which is an excellent resource for anyone wanting to understand how we've approached this.
Mobile first and agile approaches are a great way to promote quick releases and to get a mobile version out quickly. However we learnt that our initial speed came at a cost, and the initial code base struggled to support different sites and page configuration in a maintainable way. We've now made good progress on refactoring the code, but more open discussions within development teams in retrospectives could have caught the issue sooner.
Overall, we've learnt that users like the the design and functionality of the responsive mobile solutions we're deploying, and that's driving very rapid growth in the countries where we have deployed it. On average, in just the first three months after the responsive solution has gone live we've seen a 20% uplift in visitors to the sites.
I'll update you on the progress of this work next year.
Robin Pembrooke is Head of Product, BBC News