Gabriel Straub from BBC Design and Engineering's Technology, Strategy and Architecture team, lists all the ingredients that went into last week's 24 hour Hackathon.
"Go hack" went the cry, and with that staff from across the BBC began the first 24 hour Diversity Hackathon, which set out to explore ways that data can support BBC News journalists to make content that better represents the diverse range of interests and voices in the UK.
At 10.00am on Thursday 18th January, over 100 BBC staff from Design & Engineering, News, Monitoring and R&D gathered in the BBC's central London headquarters to voluntarily run this first BBC 24 hour coding event.
The Hackathon Brief
The aim was to build prototypes that could support:
• Our Editorial Choices – how can we better discover and report those important topics that are not part of the continuous cycle of breaking news and the more traditional news stories and sources?
• Our Coverage – how can we better understand what 'underserved' audience groups want from a story?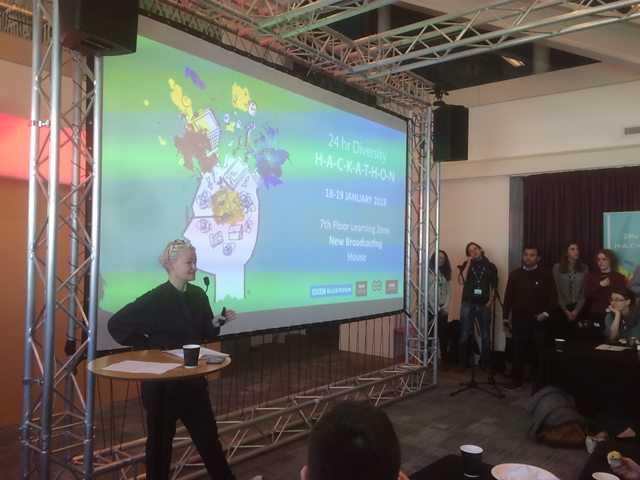 Fiona Campbell, Controller BBC News Mobile & Online, sets out the challenge
The Hack Teams
The BBC staff volunteers were grouped into 14 diverse teams comprising journalists, engineers, architects, data scientists, graduate trainees, audience researchers and marketing professionals, and the response was fantastic. Our ambition from the outset was to break down the silos between departments, cement new friendships across the organisation, encourage people with different skills, from different parts of the BBC to all come together successfully as a team…and we did it!
And this is how….
24 hours to go
10:00 Introduction by Jatin Aythora, BBC Chief Architect, TS&A followed by Problem Presentation by Fiona Campbell, Controller of BBC News Mobile & Online
10:45 Hacking starts and continues for next 24 hours!
14:00 Lunchtime check in and first vote. First 3 minute pitch presentations from the teams
22:00 Late Dinner check in and second vote. Second 3 minute pitch presentations from the teams
08:00 Breakfast check in and vote. Final 5 announced!
10: 00 Demos and judging panel. Winner is announced.
Throughout the 24 hours, to give people a break from a hard day (and night) of work, we organised some inspiring entertainment, as well as an open bar and food round the clock. Among the highlights were a workshop with steel band Ebony to learn how to play the steelpan, a chance to pitch your wits against renowned computer scientist and academic Dr Sue Black who hosted a quiz, a variety of stand-up comedians and musicians, yoga classes to stretch out and relax, table tennis, fussball and Jenga for the more energetic, and large squashy bean bags for those needing a power nap.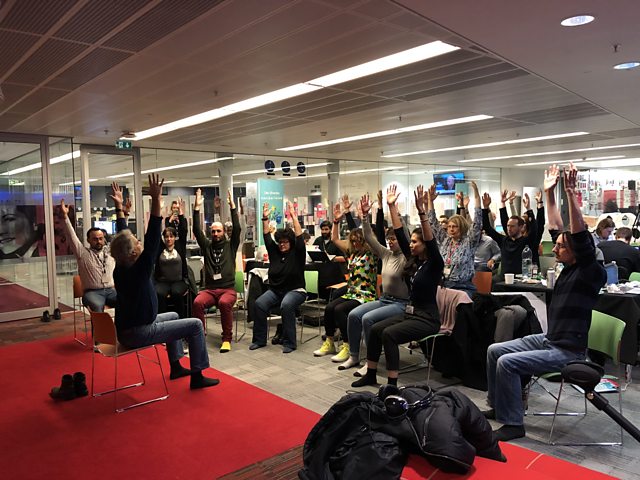 Late night yoga to keep teams going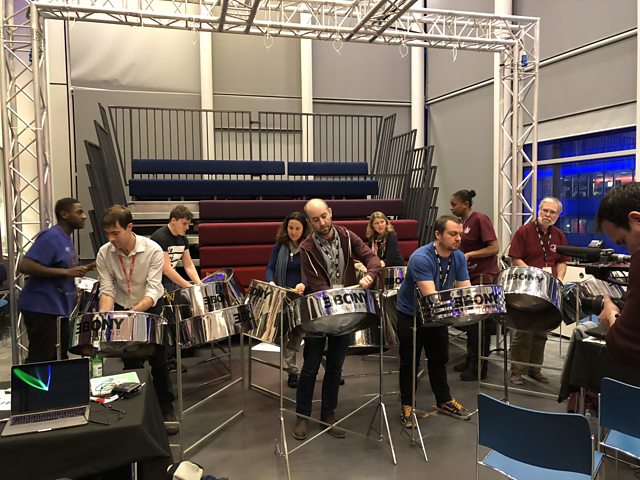 A late night lesson in steelpan
The event ended with the demos and judging session hosted by former Tomorrow's World presenter Maggie Philbin. The judging panel of senior editorial and technology staff from BBC Design & Engineering and BBC News, were impressed by the quality of entries. I was impressed by the sustained enthusiasm, creativity and frenzied coding amongst all the teams – some even took to the streets to test out their idea on the public!
Watch this space for how we plan to take their ideas to the next stage. But one thing that's certain – as a result of the fantastic feedback we've received both from the judges and participants, we'll be holding more Hackathons in the future.
The Hackathon was not just about demonstrating how technology can help open new paths into understanding the diverse interests, opinions and perspectives of our audiences - as a data scientist I would say that - but, for me it was also about showing how working and innovating with people across the organisation can produce amazing ideas which could help transform the way we serve our audiences.
The event in code…
• 102 participants
• 14 teams
• 7 judges
• 2 event spaces
• 1,171 emails about logistics!
• 16 weeks of planning
• 12 oversized beanbags
• 9 inspiring entertainment acts
• 0 hours of sleep (for some)
• 40 bags of assorted sweets
• 24 hours
• = 1 successful Hackathon!
The final word must go to our BBC sponsors across Design & Engineering departments, News and Monitoring without whose amazing support this 24hr Diversity Hackathon could not have gone ahead. Thank you!