Nature lovers are in for a treat this week as we present Winterwatch live from the Scottish Highlands, starring our native wildlife as it faces up to the extremes of the season. There's also skiing events and the Skeleton World Cup from Switzerland, and Championship Indoor Bowls live.
Winterwatch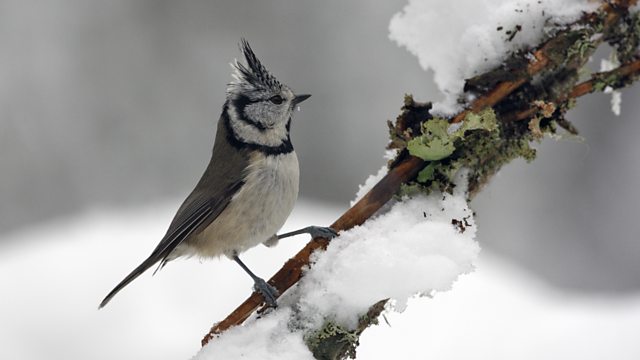 Large crested tit
In a new, live, interactive show, Winterwatch builds up to the world's largest citizen science project, the RSPB Garden Birdwatch.
Join Iolo Williams, Euan McIlwraith, Richard Taylor-Jones and Nick Baker with live cameras around the UK, from dawn to dusk each day. This will feature live reports from cameramen in the field, live wildlife scenes filmed on remote cameras, interviews and more.

The wildlife footage will be streamed online, on tablets, smartphones and on BBC Red Button, and it's accompanied by running commentary from our guest experts.
Mon 20 Jan, 9am-10am, 12pm noon-10:25pm
Tue 21 Jan, 4am-7am, 9am-10am, 12 noon-7am Wed 22 Jan
Wed 22 Jan, 9am-10am, 12pm noon-7:55pm
Thu 23 Jan, 12am midnight-1:55am, 4am-7am, 9am-10am, 12pm noon-7am Fri 24 Jan
Fri 24 Jan, 9am-10am, 12pm noon-1:25am Sat 25 Jan
Sat 25 Jan, 4:30am-6am
Sport highlights this week
Final Score and the Football League Show take their usual slots on Saturday and there's more winter sports action with the men's slalom skiing from Wengen, Switzerland and the Skeleton World Cup in St. Moritz. From Monday, we head to Great Yarmouth for a week of live World Indoor Bowls coverage.
For a full list and times of sport coverage on the Red Button see the BBC Sport website. Please note times are subject to change.
Extra from BBC Three's Uncle
Watch the music video of 'No Survivors' in full - a treat from BBC 3's new comedy about rambunctious, immature Andy and his relationship with his smart and levelling Nephew, Errol.
Mon 20 Jan, 10:25pm-4am Tue 21 Jan
Thu 23 Jan, 1:55am-4am Fri 24 Jan
Sat 25 Jan, 1:25am-4:30am Sun 26 Jan
Crimewatch
Crimewatch needs your help to track down wanted faces. Your first chance to view and report people wanted by police before the main Crimewatch programme. Will you recognise anyone?
Wed 22nd Jan, 7:55pm-12am midnight
You can keep up with all the latest news by following us on Twitter @BBCRedButton