It's a fun-filled trip for the whole family on the Red Button this week. First stop is CBBC: take a sneaky peek at the new episode of Wizards vs Aliens and get backstage access to Wolfblood with Dodge. For music fans, there's more 6 Music highlights of top artists performing at the Maida Vale studios, while Hugh Laurie returns to talk about blues history. To round things off, Sports fans can enjoy extensive coverage of the Australian MotoGP, the World Boxing Championships and a preview of the Rugby League World Cup.
Wizards vs Aliens Extra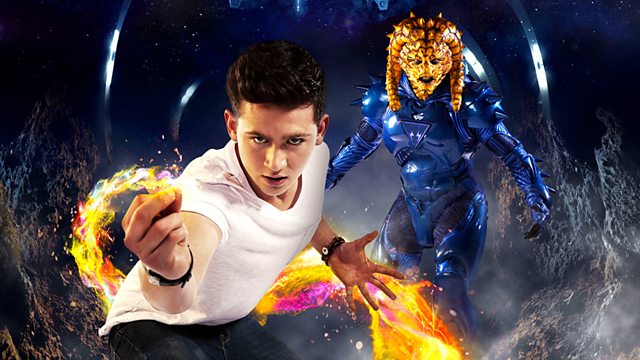 Wizards vs Aliens
To celebrate the return of hit series Wizards vs Aliens, CBBC's Chris and Dodge conjure up a magical behind-the-scenes special that is truly out of this world. Want to hear first-hand from the cast about what filming the second series was like? No problem. Want to learn how the team use make-up and prosthetics to create the incredible creatures on the show? You got it. Itching for a sneak peek of the first episode of the new series? Coming right up! So sit tight and enjoy the ride with Wizards vs Aliens Extra, only on the red button.
Mon 21 October, 11am-4pm
Tue 22 October, 7am-7:30pm
Wed 23 October, 7am-9am, 1pm-2pm
Thu 24 October, 7am-7:30pm
Fri 25 October, 7am-9am, 12 noon-1pm, 4pm-5:30pm
Wolfblood Extra
CBBC's hit series Wolfblood is back, and it's bigger and better than ever. To celebrate its return, Wolfblood Extra has all the behind-the-scenes exclusives you could dream of. Find out what life was like on set during filming, see an exclusive report from Dodge as he sniffs out all the Wolfblood gossip and see some special cast interviews from all the stars of the show. All this plus Chris's blog, horoscopes and jokes that will make you LOL.
Mon 21 October, 7am-11am, 4pm-7:25pm
6 Music Live
6 Music Live at Maida Vale is back and features Paul McCartney, Manic Street Preachers, and Sigur Ros. Showcasing the music that the station has championed, enjoyed and nurtured, listeners can find all the action on air, online and of course on the Red Button.
Sat 19 October, 7am-9am, 12:30pm-2:30pm, 6pm until Sun 20 October 2:45am
Sun 20 October, 5:30am-8:15am, 1pm-6pm, 8pm-10:25pm, 11:30pm until Mon 21 October 7am
Mon 21 October, 8:30pm-10:55pm
Tue 22 October, 4am-7am, 7:30pm-9:25pm,
Wed 23 October, 4am-7am, 7:30pm until Thu 24 October 7am
Thu 24 October, 9pm-6am
Fri 25 October, 6am-7am
Hugh Laurie's Blues Changes
Actor, comedian and musician Hugh Laurie with his acclaimed Copper Bottom Band examines the ways in which the blues has influenced the types of music that we listen to today.
Mon 21 October, 10:55pm-4am
This Week's Sport Highlights
We've got a wide range of sporting treats this week, including the Australian MotoGP action, from qualifying to the race. There's also a celebration of sport's biggest names, rising stars and unsung heroes in The Olympic Journey: Inspire. And don't miss the World Amateur Boxing Championships in Kazakhstan and our rugby league World Cup preview. For a full list and times of sport coverage on Red Button see the BBC Sport website. Please note times are subject to change.
Don't forget, you can get more information on BBC Red Button services here and you can keep up with all the latest news by following us on Twitter @BBCRedButton.