I'm Clare Hudson, executive editor, BBC Homepage and Search.
The 25-strong editorial team I belong to curates content for a number of BBC services including the BBC's desktop and mobile homepages, editors' picks in BBC Search, the pictures accompanying each programme in BBC iPlayer and the menus and services that you see if you press the red button.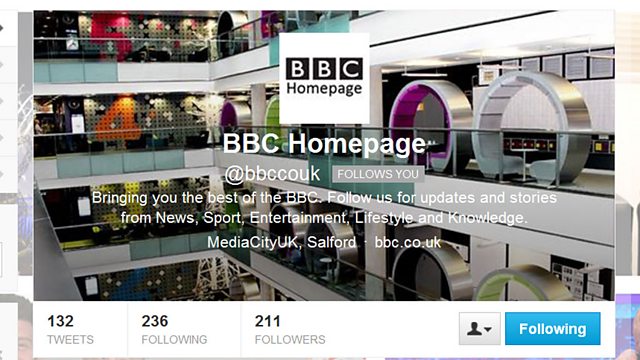 @bbccouk

Today we're extending our coverage outside the BBC's digital domain and into the wider social networking space by launching a Twitter account @bbccouk.
So what will you get if you follow @bbccouk on Twitter? Well, we're an editorial team rooted in 'one service' traditions - not wedded to any product or service, not aligned to a channel or programme brand – so we've got a clear, impartial view of the entire BBC offering.
We're experienced in handpicking the best of the BBC's content from the latest breaking news to the most popular clip available on catch up.
We have a busy planning team that has contacts right across the BBC so if it's important and it's happening soon the chances are we will be on to it and ready to let you know as soon as possible.
Why Twitter? Our research indicates that Twitter is becoming an increasingly important route for audiences to find BBC content, out-performing Facebook in some areas.
It's also an excellent way to share links which is one of the team's fundamental roles. Being part of the Twitter community will also let us share in the real-time conversations and trends taking place there and allow us to see what audiences like and don't like about BBC content, particular during live events.
We're interested to know how you think the BBC could better reach audiences using social networks. Let us know below and follow us on Twitter @bbccouk.
Clare Hudson is executive editor, BBC Homepage, Search and Navigation.