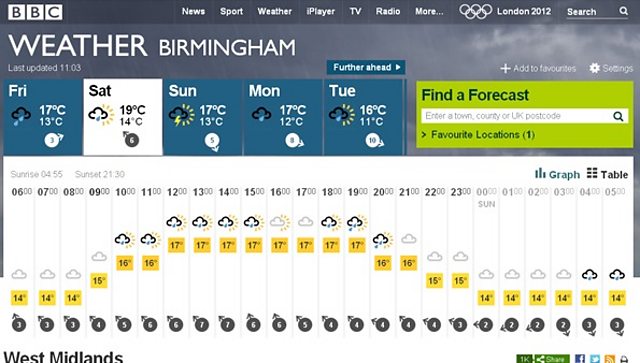 BBC Weather forecast page for Birmingham showing the 'Further ahead' button
Just over two weeks ago I posted a blog about the major upgrade we made to the BBC Weather website, introducing new hourly forecasts for UK locations and three hourly forecasts for International locations.
Yesterday we introduced extended forecasts, providing ten day forecasts for all our locations.
When you select a forecast location on BBC Weather you will see the forecast for today and the next four days in the tabs across the top of the page. Above the 'Find a Forecast' box you will now see a 'Further ahead' button which will take you to the following 5 days forecasts (i.e. into next week).
You can go back to the first five days by clicking the same button which now says 'First five days'.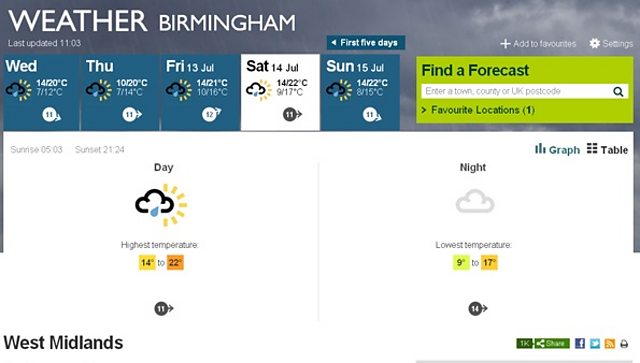 After selecting the 'Further Ahead' button you see the five day forecast into the following week. The 'First five days' button will take you back to the previous week
You will also notice that the forecast data granularity decreases over time. In the UK we have hourly data for the first two days, which then decreases to three hourly forecasts for the next three days, and then day/night forecasts for the final five days of the 10 day forecast.
The day/night forecasts are shown as ranges - for the day's high temperatures and night's low temperatures.
You may also notice that the further ahead the forecast, for example days nine and ten, the ranges can be quite wide and day/night temperatures may even overlap as shown in the example above.
Whilst this may seem quite strange it is just a reflection of the confidence levels of the forecast that far into the future.
The nearer the forecast we can provide more granular and confident predictions, but further ahead the uncertainly increases. We hope that despite the uncertainty of the further ahead forecasts that you still find them valuable and helpful. I look forward to your feedback and comments.
Jo Wickremasinghe is the Head of Product for BBC Weather in BBC Future Media