Hi, my name is Justin Barritt and I am Executive Product Manager for BBC Sport on connected TVs which includes Smart TV's, Games Consoles, TV operator platforms and Media Players. In this blog post I'll provide an overview of what you can expect for the BBC Sport App on connected TV for the exciting summer of sport which kicks off next week with the FIFA World Cup!
The BBC Sport App
The BBC Sport App for connected TV brings our extensive digital proposition to the biggest and best screen in the house offering a wide range of live sports, video highlights, headlines, match reports and analysis. Along with extensive coverage of popular sports it also offers unique destination for each of the major events taking place this summer – The World Cup, Wimbledon, the British Grand Prix and the Glasgow Commonwealth Games. A detailed overview of what the app currently offers and how to access it is available on our Connected TV and certified devices pages however to find out what's new and what we have planned for this major summer of sport read on below…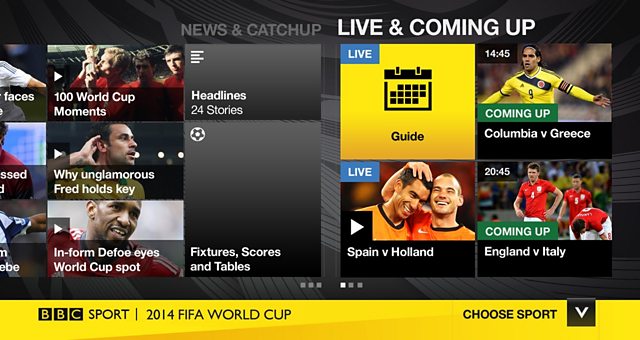 What's New?
Ahead of the Sochi Winter Olympics in February we made a number of key changes to deliver an improved experience for this event and also to provide reusable functionality for the upcoming events this summer including:
• Sport Switcher – A 'Choose Sport' option to access a dedicated destination for up to 3 major sporting events (including Sochi 2014), 11 sports and each of the 4 UK Nations
• Headlines – The latest sporting text headlines, analysis and match reports from the BBC
• Medals Table – A Live medals table highlighting Team GB that will also be used for the Glasgow Commonwealth Games in July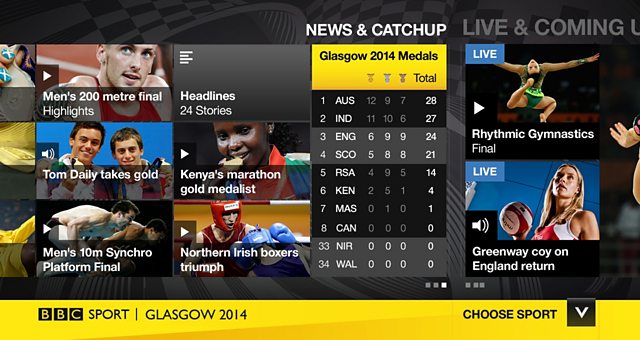 Following the Winter Olympics the development and design team began work on delivering 3 further enhancements as follows;
1. Integration with our new Live Event platform – BBC Live is a new technical architecture that we are now using to deliver live content as detailed in Neil Hall's blog post. BBC Live is now powering each of our 4 screens (PC, mobile, tablet and connected TV) and will power many of our future connected TV innovations. Initially it is being used to source medals table data for the Commonwealth Games and to power our new 'Coming Up' promotions that highlight upcoming live streams. Most importantly however it's powering our new Live Guide…..
2. Live Guide – The Live Guide is accessible from the landing page and will provide details of all the available live streams available to watch each day. With up to 17 concurrent streams planned for the Commonwealth Games we expect this to be an invaluable source of information for our audience. Users will be able to access each of the active live streams directly from the Guide and also watch full length Catch-up videos from key events streamed earlier in the day.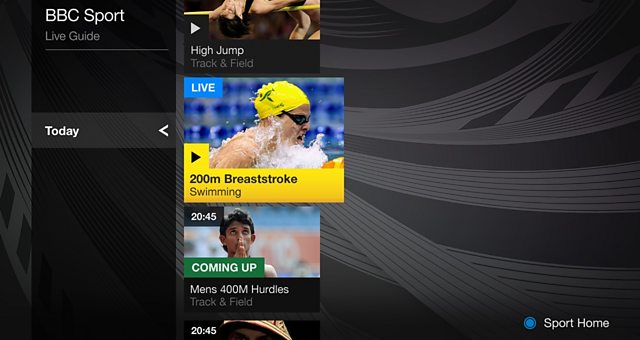 3. Football Scores, Fixtures & Tables – The new Fifa World Cup index will be the home of all our World Cup coverage including all the World Cup Scores, Fixtures and Group Tables. This new feature will also be accessible from our Football index and will include UK, International, European and Women's leagues.
These new features have gone live on the BBC Sport connected TV app this week so take a look or alternatively watch the short video trail that provides a walkthrough of the app and the new functionality.
What's On?
A huge summer of Sport begins next Thursday 12th June with the World Cup. Alongside extensive broadcast coverage the BBC Sport Connected TV App will offer:
• World Cup 2014 (June 12th – July 13th) – Archive World Cup Rewind matches, Live match coverage including build up and alternative camera angles. Video highlights and 10 minute 'World Cup breakfast' clip every morning. All the latest headlines, fixtures, scores and group tables.
• Wimbledon (June 23rd – July 6th) –Up to 12 live courts along with all the latest highlights and headlines
• British Grand Prix (July 4th- July 6th) – Live race coverage including additional driver tracker, pit lane and on-board camera options
• Commonwealth Games (July 23rd – August 3rd) – Up to 17 Live Event Streams and all the latest Video Highlights, headlines and medal standings.
It's a busy summer of sport this year so we hope that you enjoy the coverage and make use of this new service. We are really keen to hear your feedback about how we could extend and improve the service. Please let me know what you think by adding any comments below.
Justin Barritt is Executive Product Manager for BBC Sport on Connected TVs