I'm Matt Shearer, Innovation Manager in BBC News Labs. BBC News Labs is part of BBC Connected Studio's pan-BBC innovation and collaboration programme.
Since the #newsHACK event in October, we've made some good progress, and in the spirit of open innovation, I'd like to share some updates in two areas with you.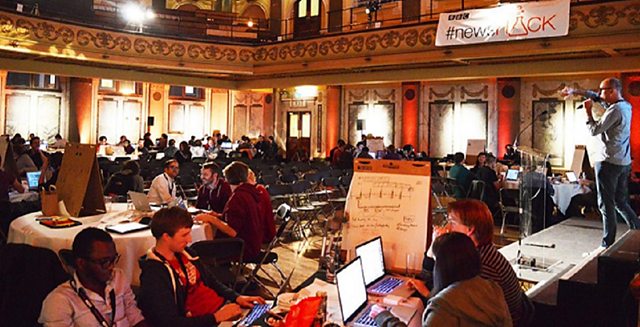 #newsHACK in October this year
1) Collaboration and Open Innovation
We've continued to reach out, share innovation tools and collaborate with News organisations and the academic world. Here are a couple of recent events the News Lab team attended.
Mozilla Festival - October 25-27 2013.
We ran a BBC News Labs stand at the Mozilla Festival "Science Fair" to demonstrate and share the News Labs APIs and The Juicer, to talk about Storyline, and to see what was going on in the open source, hacker and maker innovation spaces. Innovators at the Fair in the News space included Data Scientists, engineers from News Organisations, with a general theme of "Story-driven Journalism", and a sense of "what can we get from ambient data".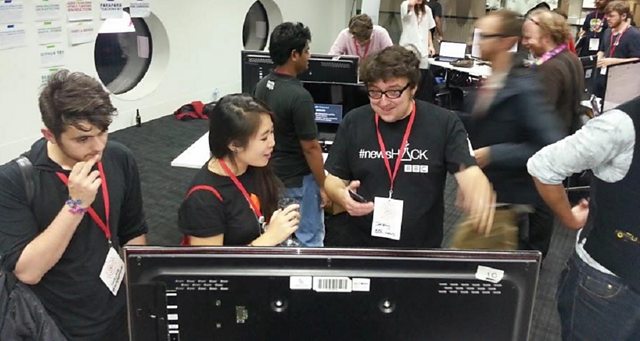 Jeremy Tarling explains Storyline at MozFest.
SeedCamp's "Seedhack" - November 8-10 2013.
Earlier in November we took the News Labs APIs and The Juicer to Seedhack (Seedcamp's Hack event at Google Campus) for competing teams there to use as a source of prototyping content with linked data annotations.
The Juicer API set was 1 of 9 sets brought to the event - others were from Facebook, Google, Getty, Nokia Music, Harper Collins, Imagga, EyeEm, et al.
The Seedhack Winner used BBC News Labs APIs and The Juicer.
The "Best in show" hack "Oppozeit" (pictured below) used the News Labs APIs, and JUICER content to provide the source of content and associated concept tags, and mashed it together with sentiment analysis algorhythms and Getty images to demonstrate opposing views on current News stories side-by-side.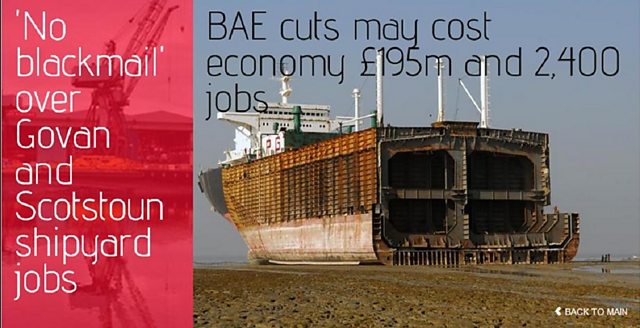 Winning Oppozeit prototype, showing 2 sides of a story based on sentiment analysis.
Another prize winner - William Rood - used the News Labs APIs to show a 3D view of people, connected by frequency of co-occurrence in recent News articles.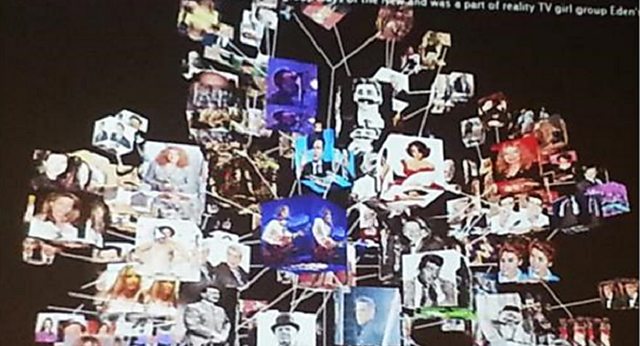 People in The Juicer DB, connected by concept co-occurence.
2) Next steps in Story-driven Journalism
We are continuing our focus on the open data model Storyline as a basis for editorially curating News in structured data. You can find out more about Storyline from Jeremy Tarling in this video, and in this Storyline presentation.
Prototyping with Linked Data in the Newsroom
We are exploring internal Newsroom prototypes driven by data from The Juicer (automated concept extraction and linked data annotation) with the News Labs APIs, and using Storyline to tie the content together across the organisation. The aim is to problem space is around helping Jjournalists with content discovery - e.g. "As a journalist working in the Newsroom, I need to see what content we have about David Cameron right now in order to write the best story/update".
Iterating the open News Curation model "Storyline".
Led by Jeremy Tarling, we are working with a growing set of News Organisations on the next iteration of the open data model Storyline. Among collaborators are SKY NEWS, The Guardian, FT, PA et al.
#newsHACK II - Spring 2014
We are planning #newsHACK II, for Spring 2014. The focus of the event is likely to be on "The next generation of News Curation", and we plan to bring the latest News Labs APIs to the event, along with a suite of open data from the BBC and partners. We expect to be making an announcement on date and location during January 2014.
To follow BBC News Labs, you can use these channels:-
BBC News Labs Twitter account
BBC News Labs on You Tube
BBC News Labs on Google+
BBC News Labs on Slideshare
Matt Shearer is Innovation Manager, BBC News Labs