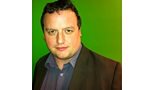 John Barratt
Senior Product Manager
Blog posts in total 3
Posts
Search cards allow us to field certain types of search queries and present the results in a way that best satisfies their search 'intent'. For instance, when someone searches for a programme title, most want to watch or listen to that programme right then and there.

The new search engine tries to work out what word you meant to search for and return results that best fit.

The resulting mobile-optimised, search results page allows you to search quickly and efficiently across News, Sport, TV & Radio, iPlayer and Editors Choice. The search query and results page will resolve to your handsets orientation and screen size.