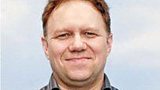 Nick Reynolds
Assistant Editor, BBC Online
Blog posts in total 19
Posts
A chance to comment about the BBC's activites online, and on digital

"BBC clamps down on ILLICIT iPlayer watchers" was the Register's colourful headline about the decision to switch off BBC iPlayer RSS feeds.

One thing we didn't want to do is continuously deliver low quality code…

Michael Smethurst of BBC R&D has written a long, comprehensive and well recived post on his personal blog: "Designing a URL structure for BBC programmes". It's a history of how systems like the BBC's Programmes Information database (PIPs) and /programme pages work together

As always with an Open post you can leave a comment about any subject, subject to the usual caveats and as long as you abide by the House Rules.

The Commonwealth Games gave the BBC's Research & Development team a chance to try out Ultra High Definition TV and showcase some of their other projects

The three most commented posts on the blog in the intervening period were Dan Taylor introduced you to the new BBC iPlayer, niko Verrr  blogged about responsive design in BBC News and Chris Yanda helped you understand how BBC iPlayer works on Google Chromecast.

If you missed Tuesday's Connected Studio in Cardiff on Classical Music there are selected pictures on the live blog

On 16 January, BBC News launched Instafax, a new short-form video news service delivered to Instagram users. The project is a month-long experiment, with three 15-second videos uploaded a day, intended to serve as a roundup of the day's news...
Previous

1