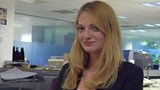 Eliza Kessler
Content Producer, BBC Internet blog
Blog posts in total 16
Posts
Links round up: Weather app and Barb measuring

Links about DMI and the BBC Online Service Licence Review

Hi everyone. Today was the BBC Online Briefing, a chance for the BBC to share what it's doing in all things digital with the wider industry. Over the next couple of weeks we will be making videos from the day available on the blog so you'll be able to check out what speakers from different depa...

Hi everyone, today is the BBC Online Briefing in New Broadcasting House, London. This is a chance for the BBC to share the work it's doing with partners and suppliers in the digital arena. We'll be collating the news, discussions and opinions from the day using our Live Blog so check it out, tw...

News about BBC Online over the last two weeks

Hi everyone and welcome to another round up of news from across BBC Online. We announced the launch of the new BBC iPlayer Radio app on Android earlier in the week and the feedback has, for the most part, been positive both on the blog and across the industry. As Digital Spy commented: "The ...

Hi everyone You may have noticed that we have a new 'recently commented' module to the right hand side of the blog page. This updates automatically when a new comment is added to a post and means it's easier to spot when new questions, comments or feedback requests are added.

Hi - it's been a while since our last roundup of news and conversation about BBC Online and it's been a busy few weeks. BBC News have released a new version of their iPhone and iPad app. Steve Herrmann on the Editor's blog says it has a new layout and faster loading speeds as well as a bug fix ...

Hi folks - here's the fortnightly round up of news about BBC Online. The announcement of a new partnership between the BBC and Microsoft received lots of attention across blogs last week.
Previous

1