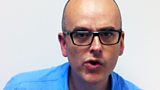 Robin Cramp
Project Manager, BBC Connected Studio
Blog posts in total 3
Posts
We want to encourage a wide range of the best digital innovators to participate, and work together to develop online services and create BBC digital media products for the future.

As a team we gave an update on our various projects;

Hello BBC Internet Blog! I'm Robin Cramp, the project manager for BBC Connected Studio and welcome to the first of many blogs providing insight into the pilots we've taken forward as part of the year one of the programme. My colleague (my way of saying boss without actually saying it) Adrian Wo...