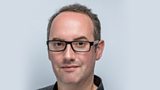 Jon Aird
Producer BBC Comedy
Blog posts in total 3
Posts
We set out to work with colleagues in Future Media, and the digital agency Kanoti to explore digital storytelling by creating an extra online episode for the fantastic new series from Steve Pemberton and Reece Shearsmith "Inside No. 9" which has just started airing on BBC Two.

BBC Comedy Productions have partnered with BBC Connected Studio to select and develop a Pilot for an Online episode of the forthcoming series "Inside No.9".  This update explains where they are at in this process and what the next steps are.

Hi, I'm Jon Aird, a producer with BBC Comedy and I wanted to tell you about an exciting experiment we're trying out: Connected Studio is going to take the new series from Psychoville creators Steve Pemberton and Reece Shearmith called Inside No. 9 as the starting point for digital innovation.